In choosing the most suitable lighting for a garden and its arboreal elements, we must consider that not all shrubs are evergreen. In addition, the green elements have different shapes and structures: this means we should use different lighting solution according to several situations. In order to obtain a pleasant lighting effect we can choose the elements to enhance and therefore determine the right light points and consequently achieve the best lighting results.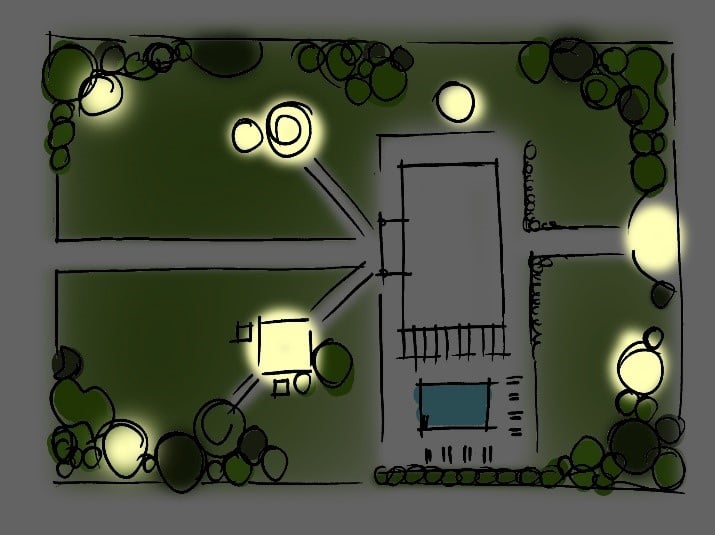 Light points for the garden lighting project
In a garden we should consider trying to enhance green bushes, flowering plants or rockery. All these elements can be lit up from the bottom upwards by means of projectors or micro-projectors to make them the focal point of the scene. We could choose to use some projectors for example, to draw attention to a tree by directing the light beam towards the trunk up to the leafs, as in the case of this ancient olive tree illuminated with the Techno Spot projector.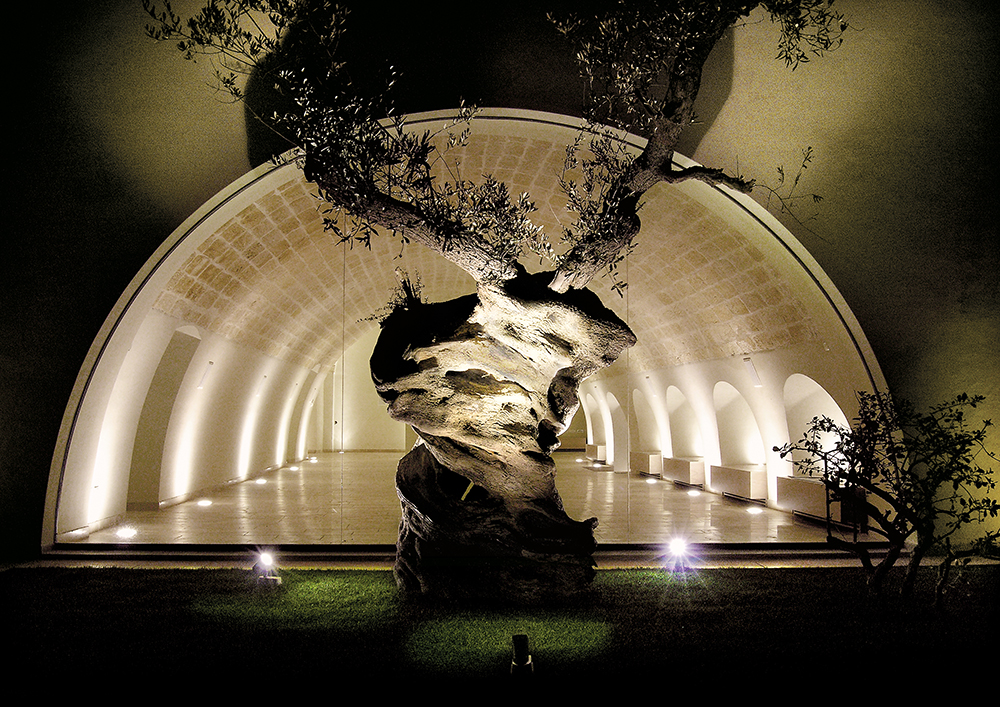 Techno Spot projector for ancient olive tree
A more suitable spotlight for illuminating medium-sized shrubs is also the recently developed Stage Round, which is characterized by comfort optics and by the possibility of directing the light in different angles. The reduced dimensions and the neat design, together with an exceptional quality of light, are all advantages of the Stage Round projector.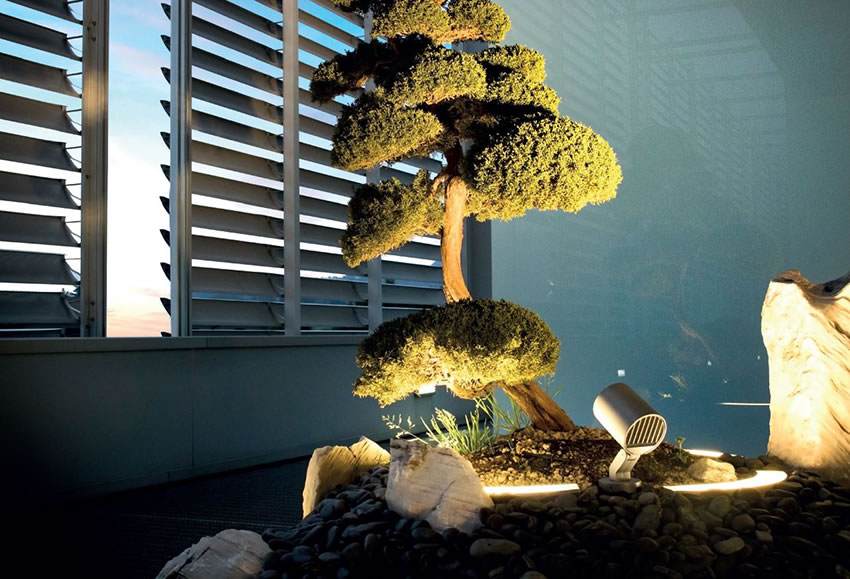 Stage Round Projector
As an alternative to Stage Round, the Nano Focus projector can also be used to illuminate medium-sized shrubs or bushes from below. Focus represents a distinctive product family for SIMES: a smart product, which was able to reconfirm its great adaptability to different projects over the years, thanks to its high performances and its dynamic beam orientation.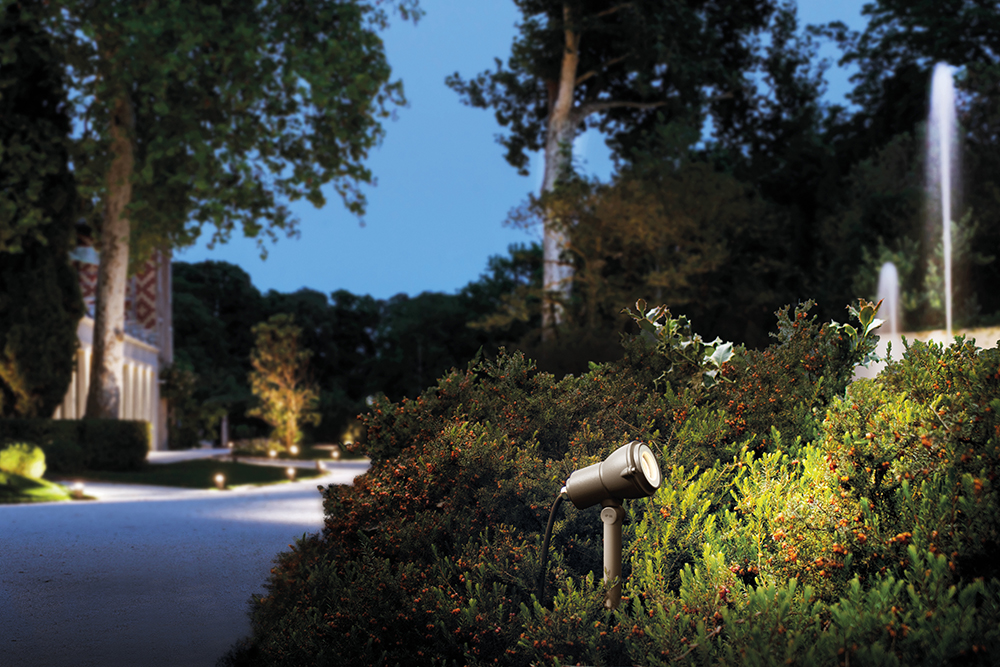 Nano focus to illuminate bushes
Within the Simes range we find fixtures that are ideal for illuminating small green details, for example inside a flowerbed or vase, and its beam can be adjusted directly on site to customise the lighting project. This is Flower, from the brand new "Microlighting for Outdoor" Collection. Flower is an adjustable micro projector with tiny dimensions and a harmonious shape. This luminaire is also available in dark green colour finish, to help it blend into the natural green elements. Flower is available both in a surface mounted spot and ground stake version, the latter we can see in the following image.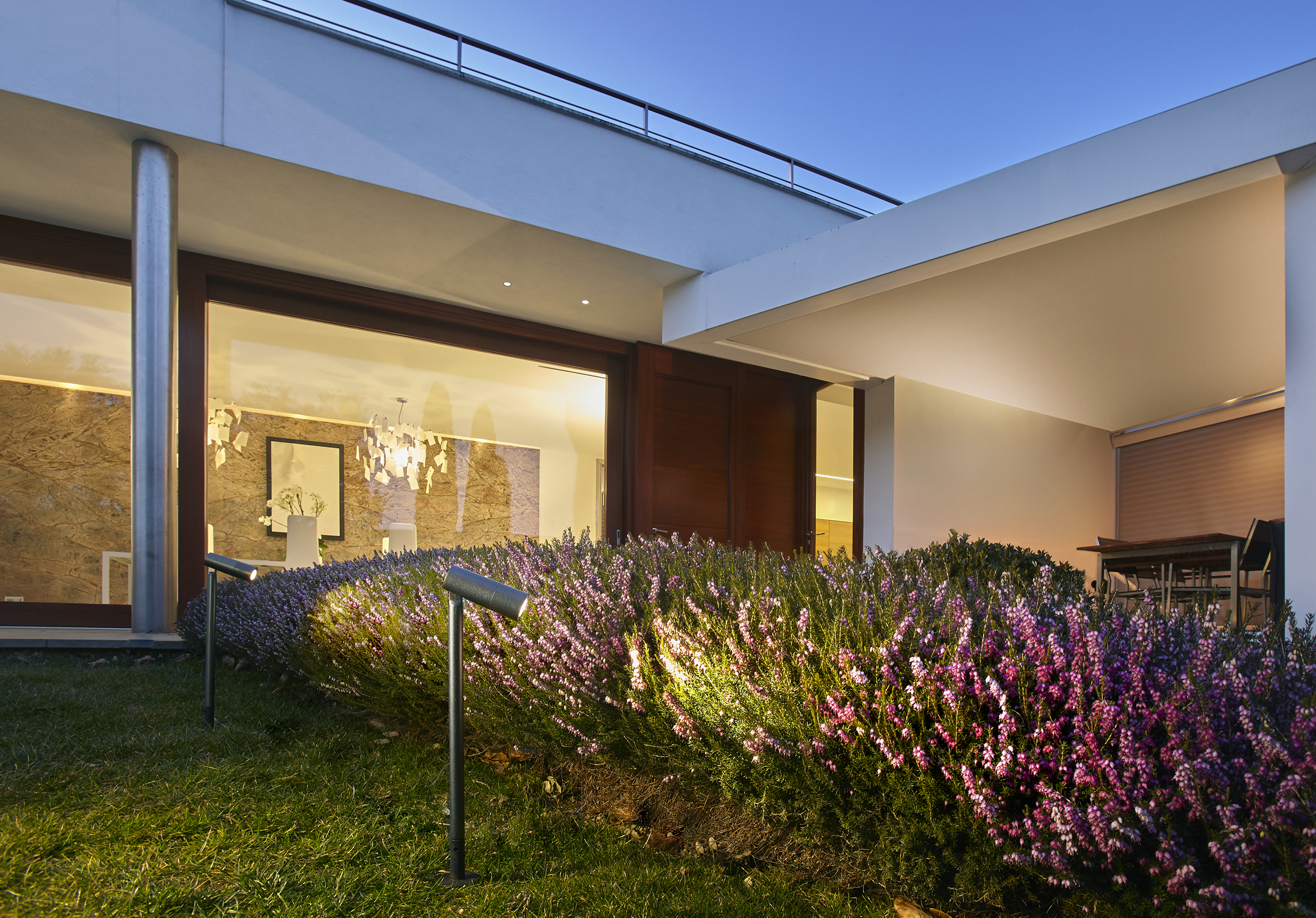 Flower micro projector from "Microlighting for Outdoor" Collection
Flower is available in two sizes, small and tiny, and requires to be installed with a remote power supply in 24V. The projector can also be pole mounted, to illuminate from top to bottom with exceptional visual comfort.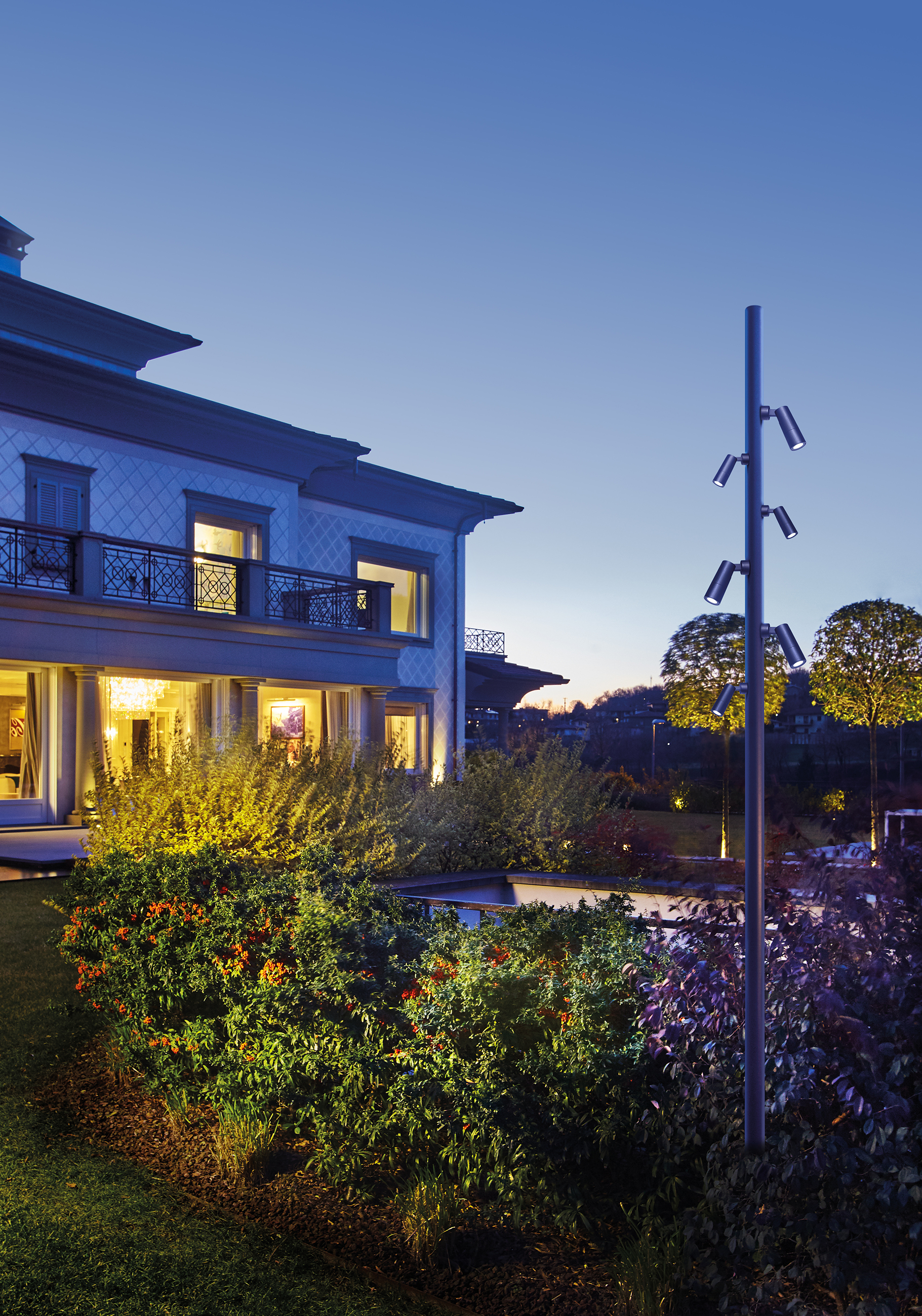 Flower pole mounted micro projector
Other lighting solutions that allow to light up the trees from bottom up, making the texture of the leaves and branches shine through. These luminaires are the uplights, which are positioned close to the trunk to easily project the light from bottom up to the branches. Some of these lighting fittings, for example Concrete Uplight and Overall, are not recessed and can be installed on the surface: the housing protrudes slightly from the ground, but their installation can be very simple and quick.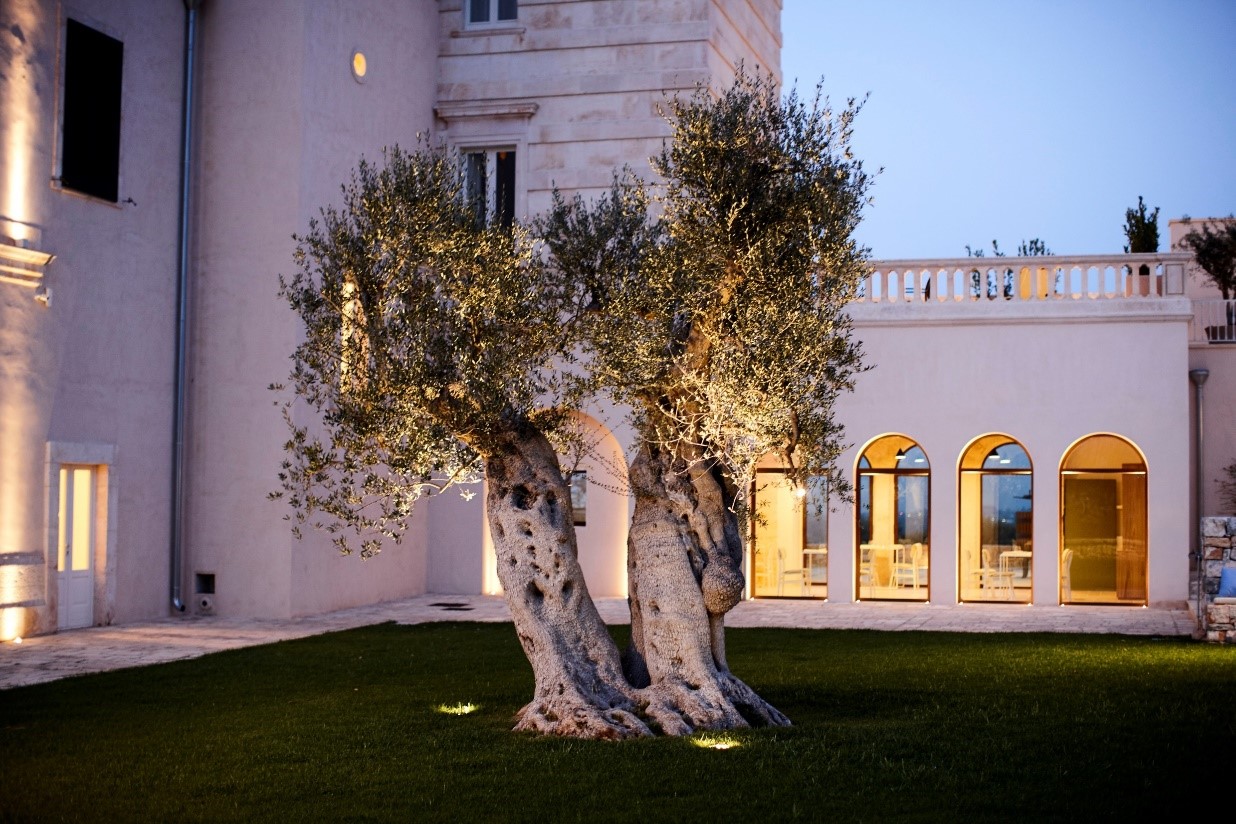 Uplight for ancient oil tree lighting
The uplight luminaires are also suitable for illuminating long-stemmed trees and several models within SIMES range can be recessed in the ground, while remaining hidden from view during the day. This is the case of ZIP Comfort, whose optical source is retracted backwards preventing glare, with truly remarkable lighting results. The ZIP Comfort ground recessed luminaire offers several different beam angles: from the soft and diffused effect of the etched glass versions, to the narrow or asymmetrical beam, obtained through modular optical systems of single lenses and cowels, to the wide beam optics with reflector and COB.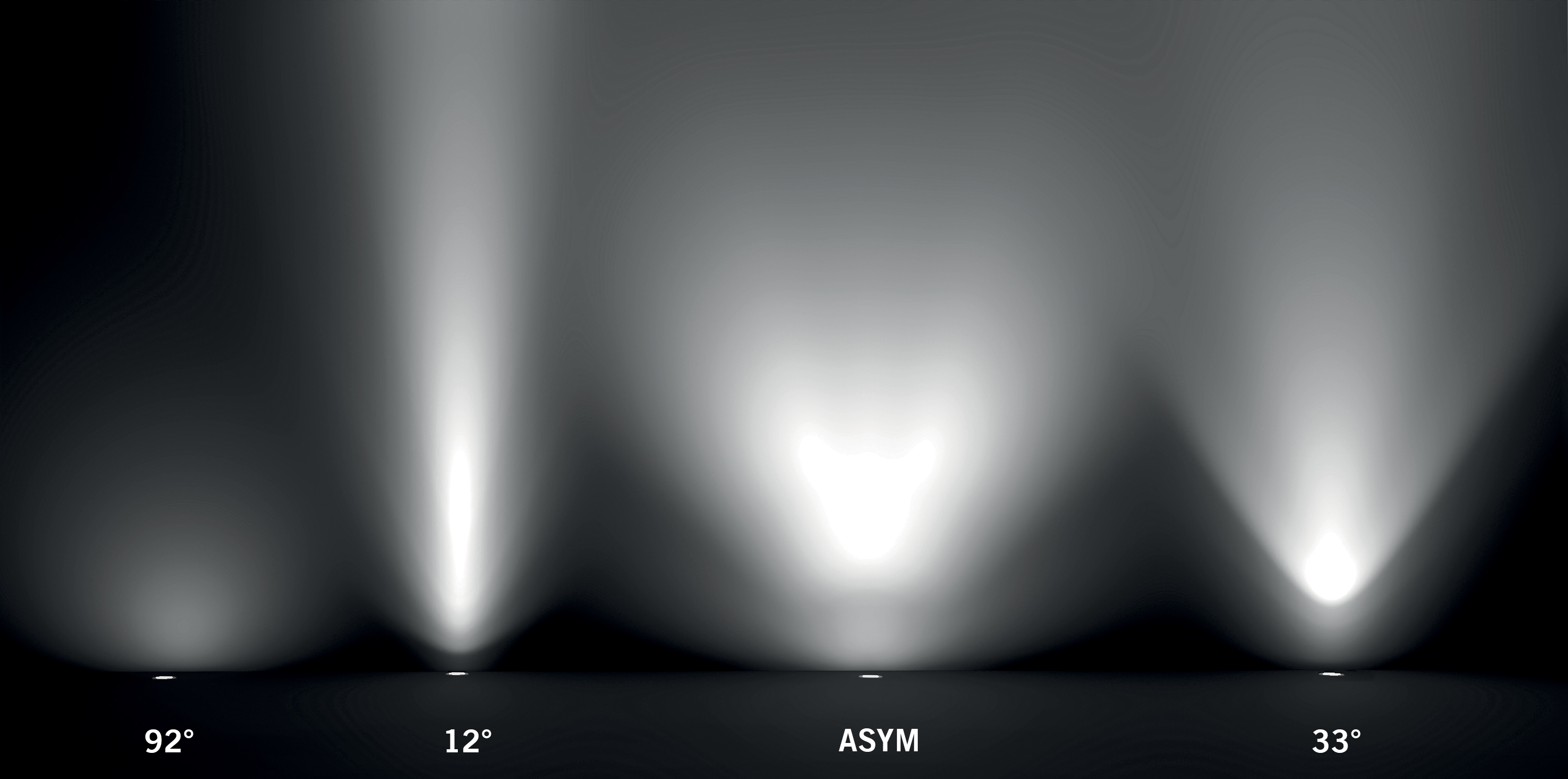 ZIP Comfort's several optics
To light up a tree all around and uniformly bring out the plant from any perspective you may look, it may be necessary to install several spotlights.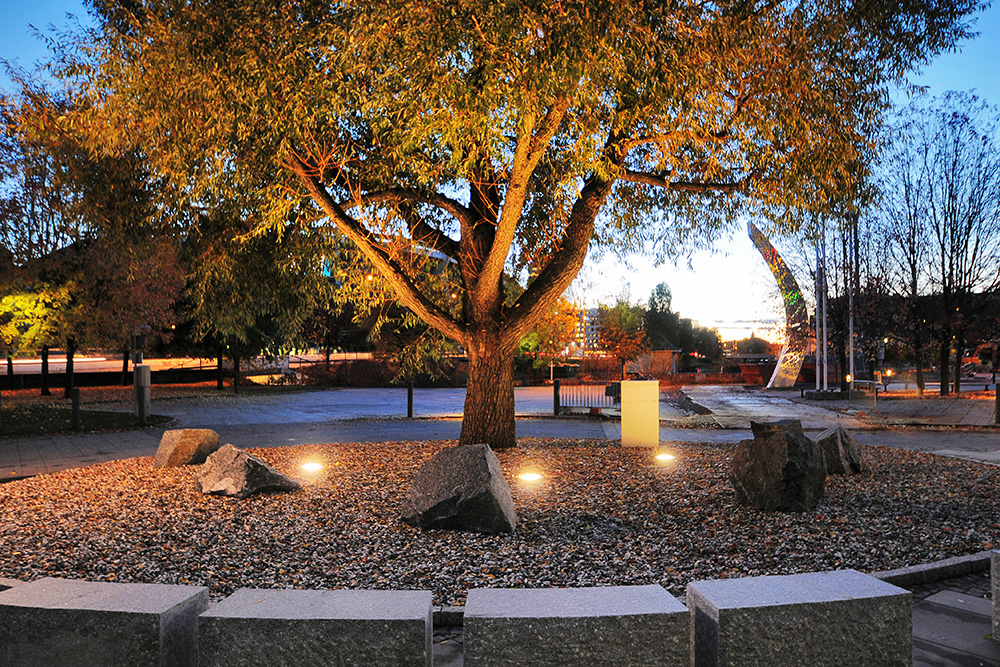 Zip uplight to light up tree
Otherwise, an innovative and unrivaled solution on the market may be to use the inground Miniround. Miniround is a curved fixture capable of drawing suggestive luminous frames, emphasizing green trunks and foliage, colonnades, sculptures and irregular paths. This lighting fixture can be used with modularity to draw up a circle of light.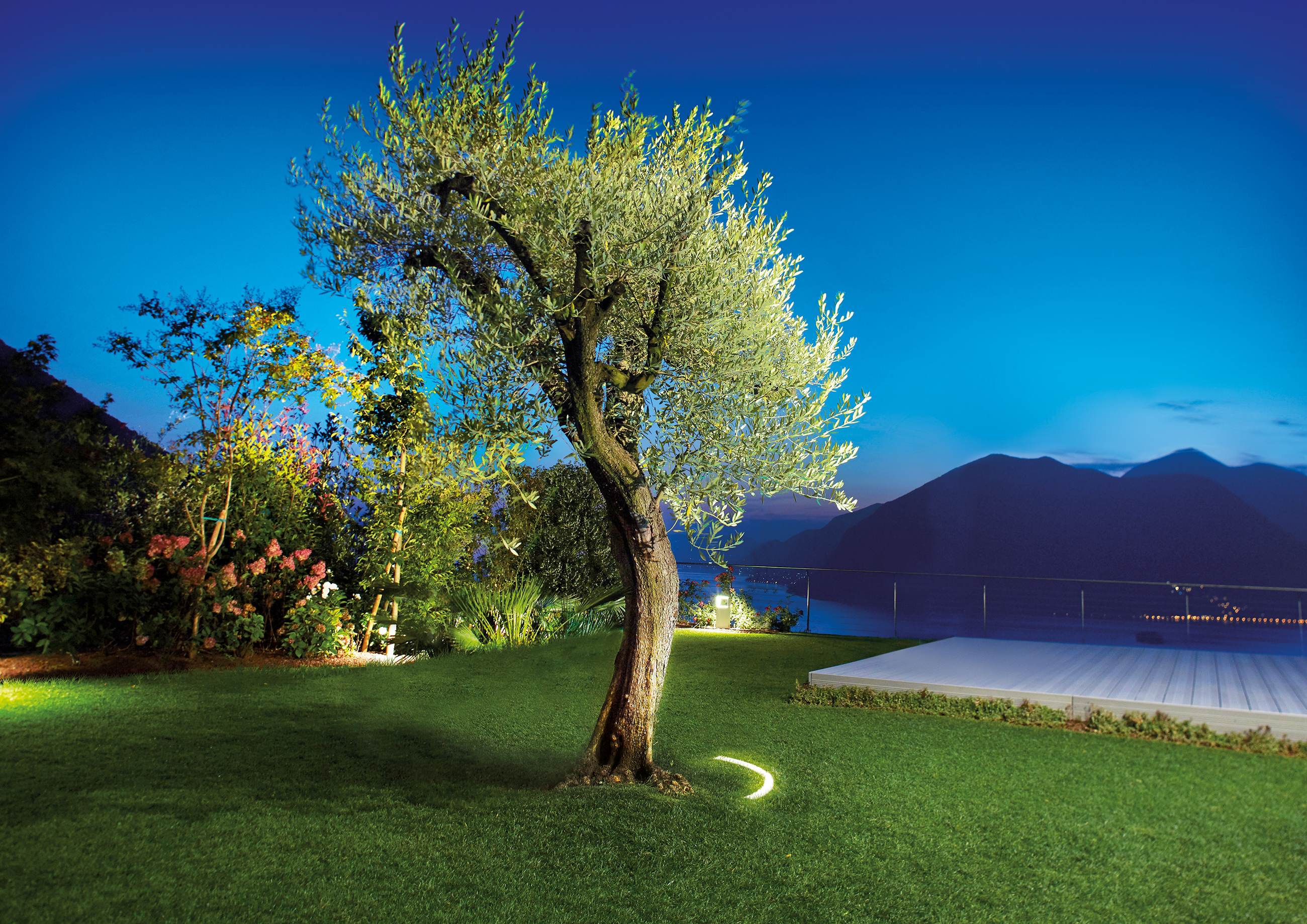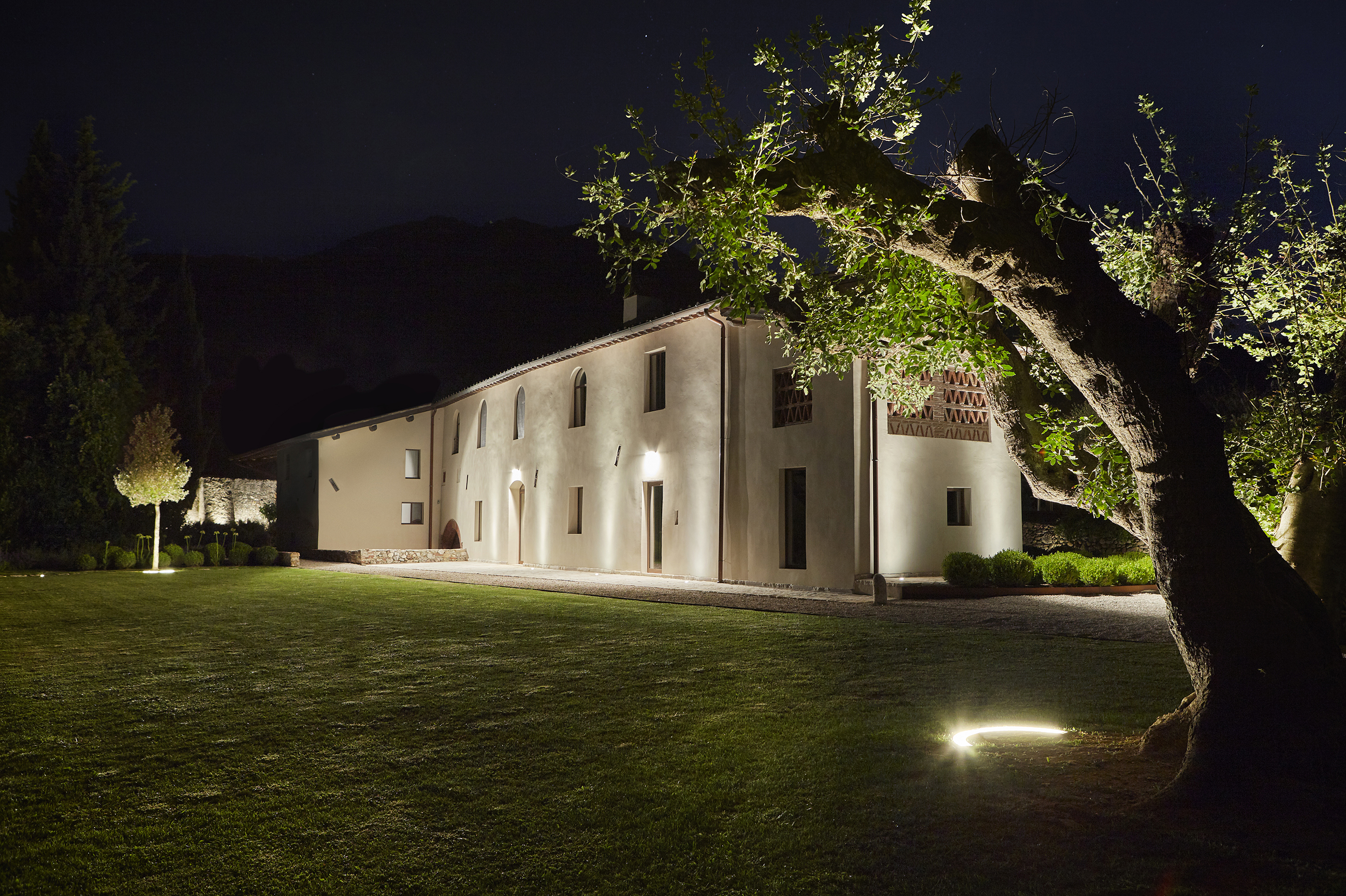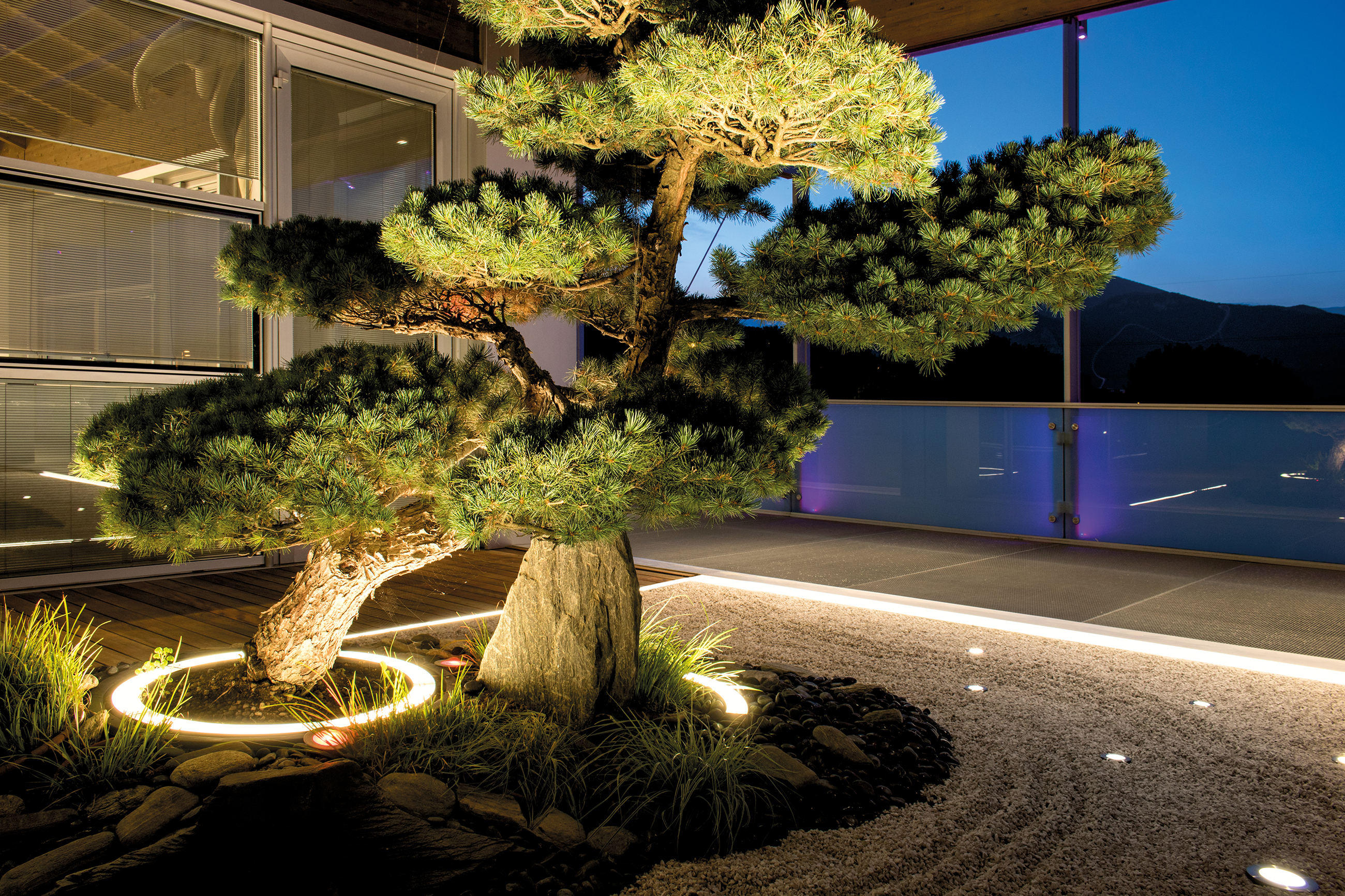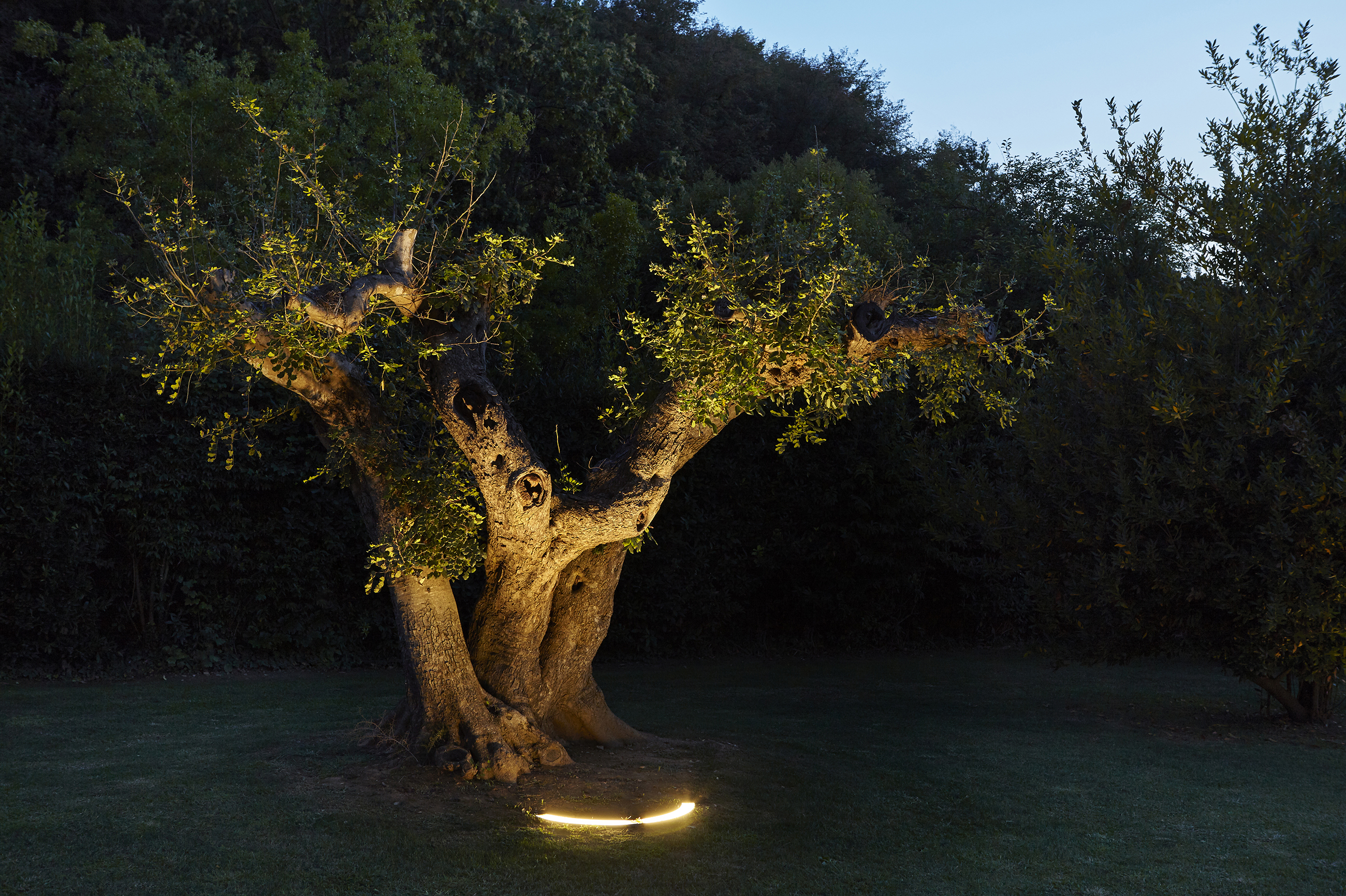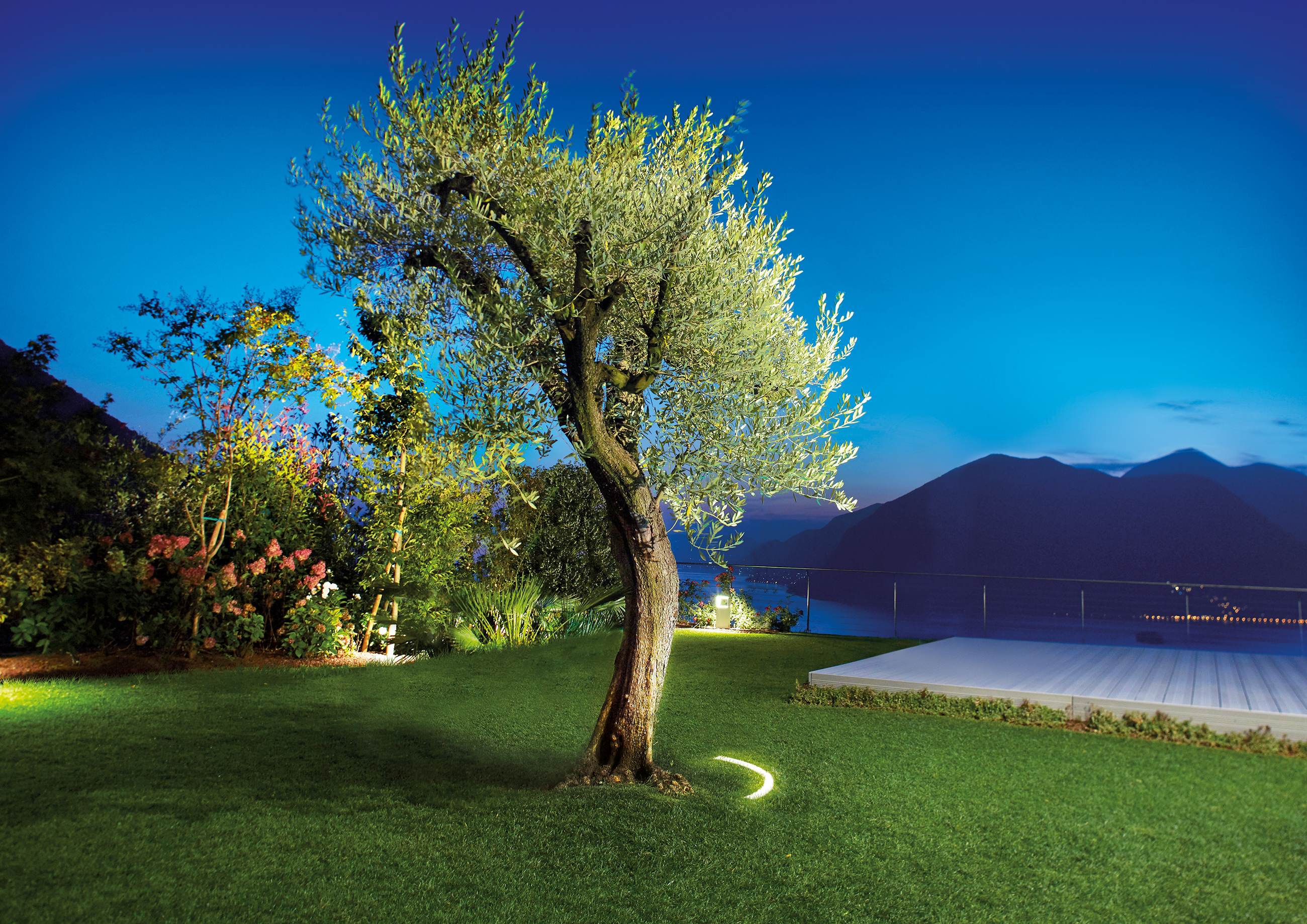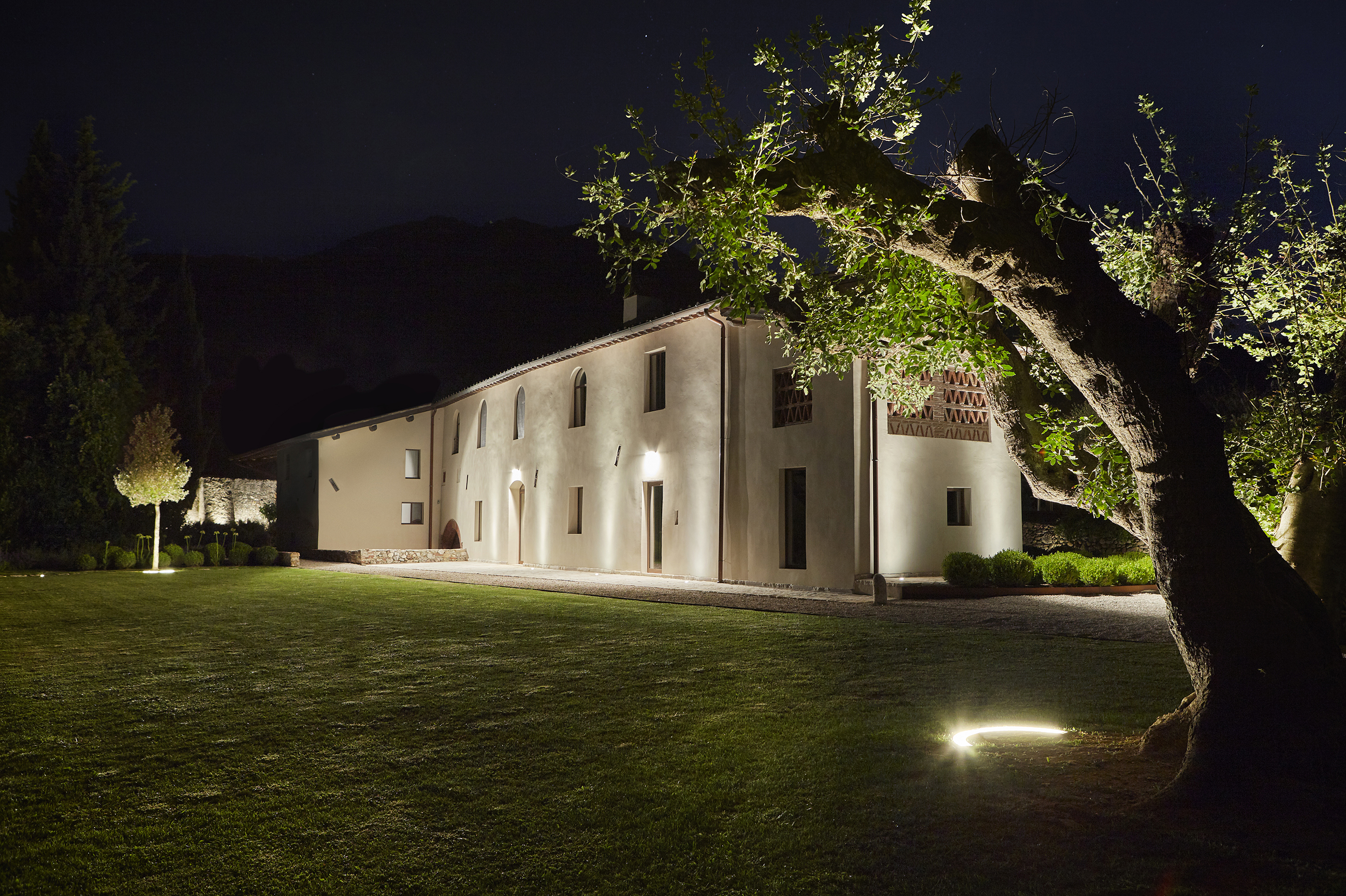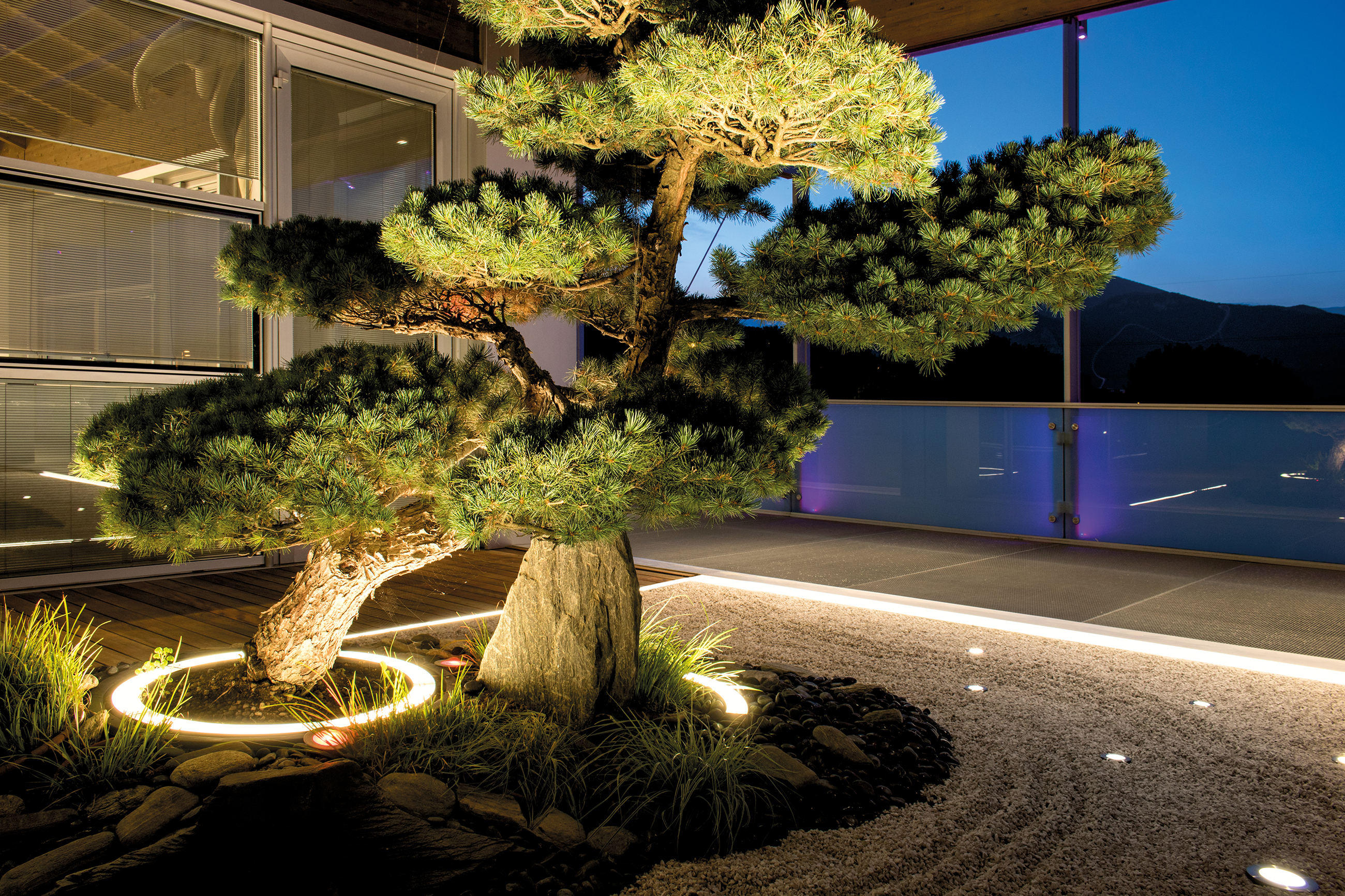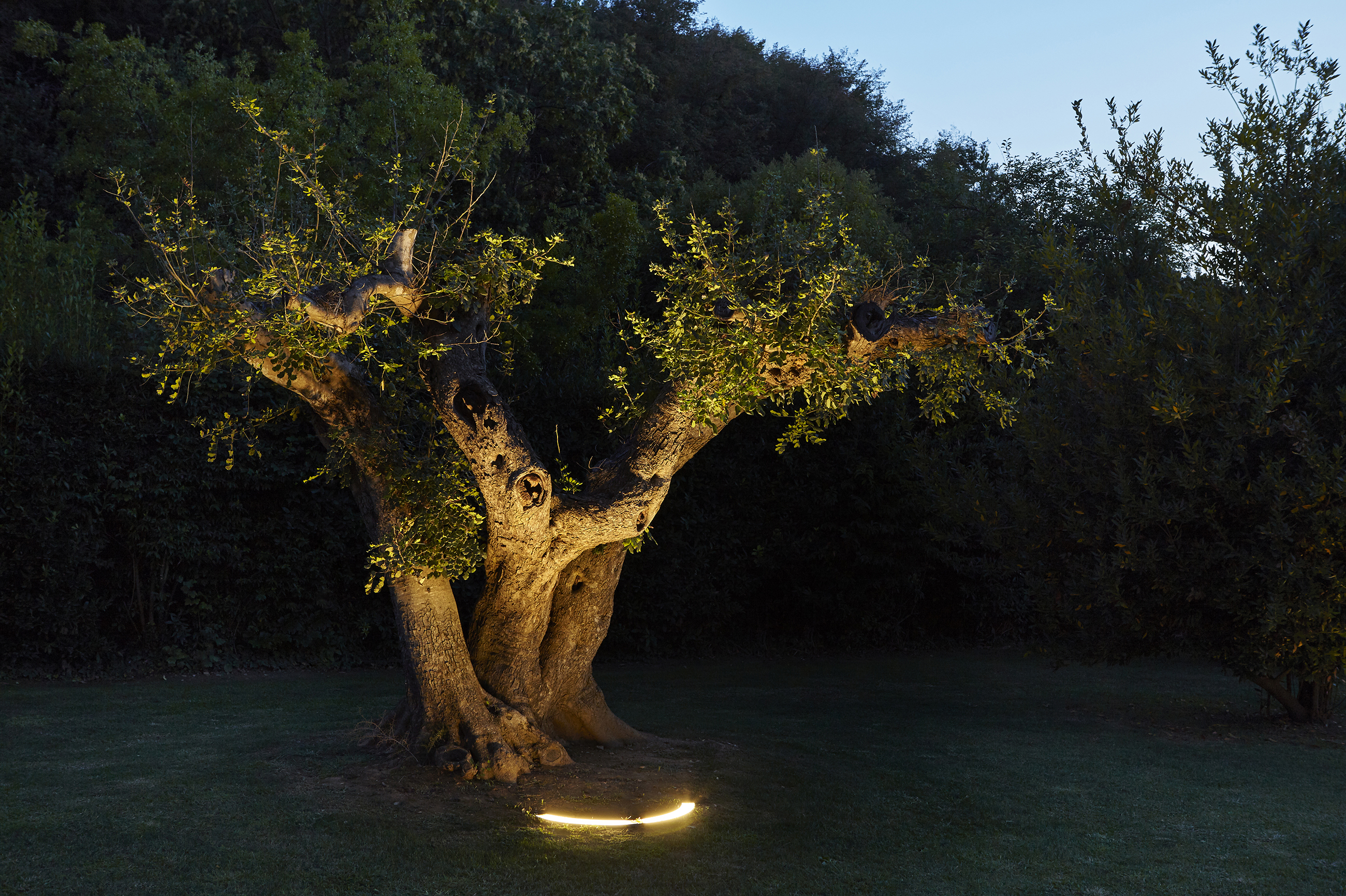 The present blog article does not exhaust the theme of landscape lighting, which is a very wide-ranging topic. In a future article we will also talk about how to use light to obtain spectacular scenic effects by illuminating the background of your garden.
BOOK HERE YOUR ONLINE MEETING!
Fill in the form to receive more information, to share a project and know our newest outdoor collections. We will reply ASAP.