Published on
Jan 31, 2020
CREDITS: Mura delle Merlettaie
LOCATION: Offida, Marche, Italia
---
Offida is a small town in the province of Ascoli Piceno, in the Marche region. Listed among the "most beautiful villages in Italy", Offida is famous for the laborious and patient art of bobbin lace, an ancient tradition that has been handed down from generation to generation for at least five centuries. The historic castle walls are called for this reason "Mura delle Merlettaie" , e the Italian equivalent for "Walls dedicated to women who make laces" and they surround the historic center like a medieval ring: they date back to the 15th century, were commissioned by Pope Innocent 8 and built by the Florentine architect Baccio Pontelli, who worked on several projects in Rome, Tuscany and Marche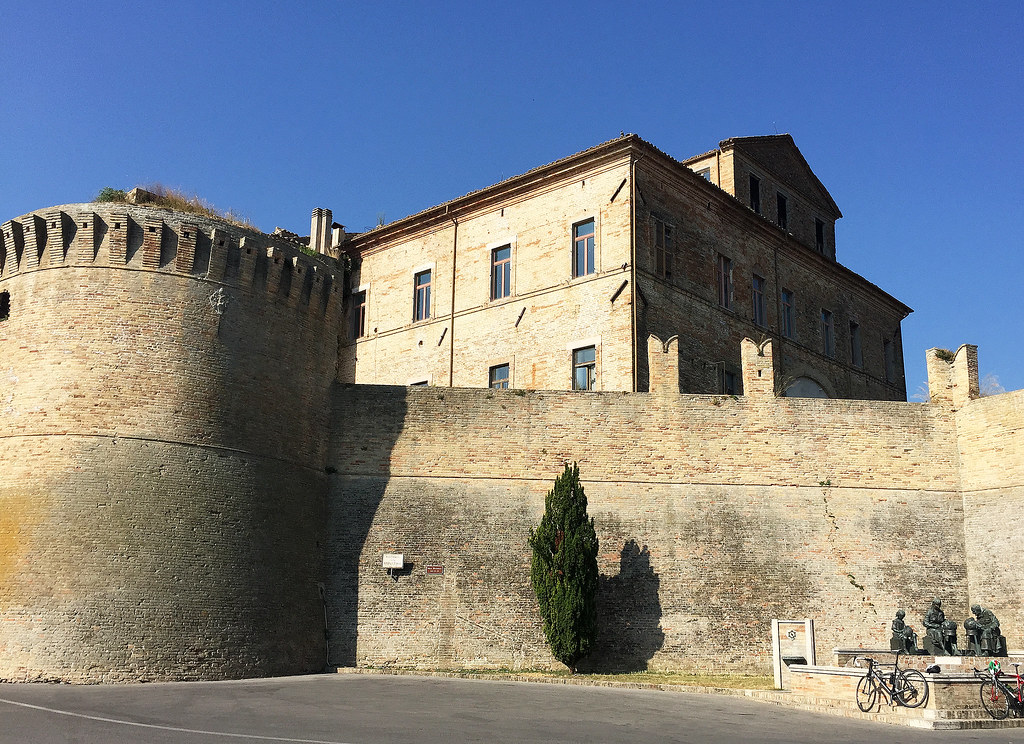 On the 21st of December 2019 the ancient walls in Offida were totally renewed through light. The lighting study has long been examined and evaluated by the Municipal Administration, which ultimately held out for a light concept by Simes. The LED fixtures installed have low environmental impact: sustainability was, in fact, the main theme on which the Public Administration aimed to focus on.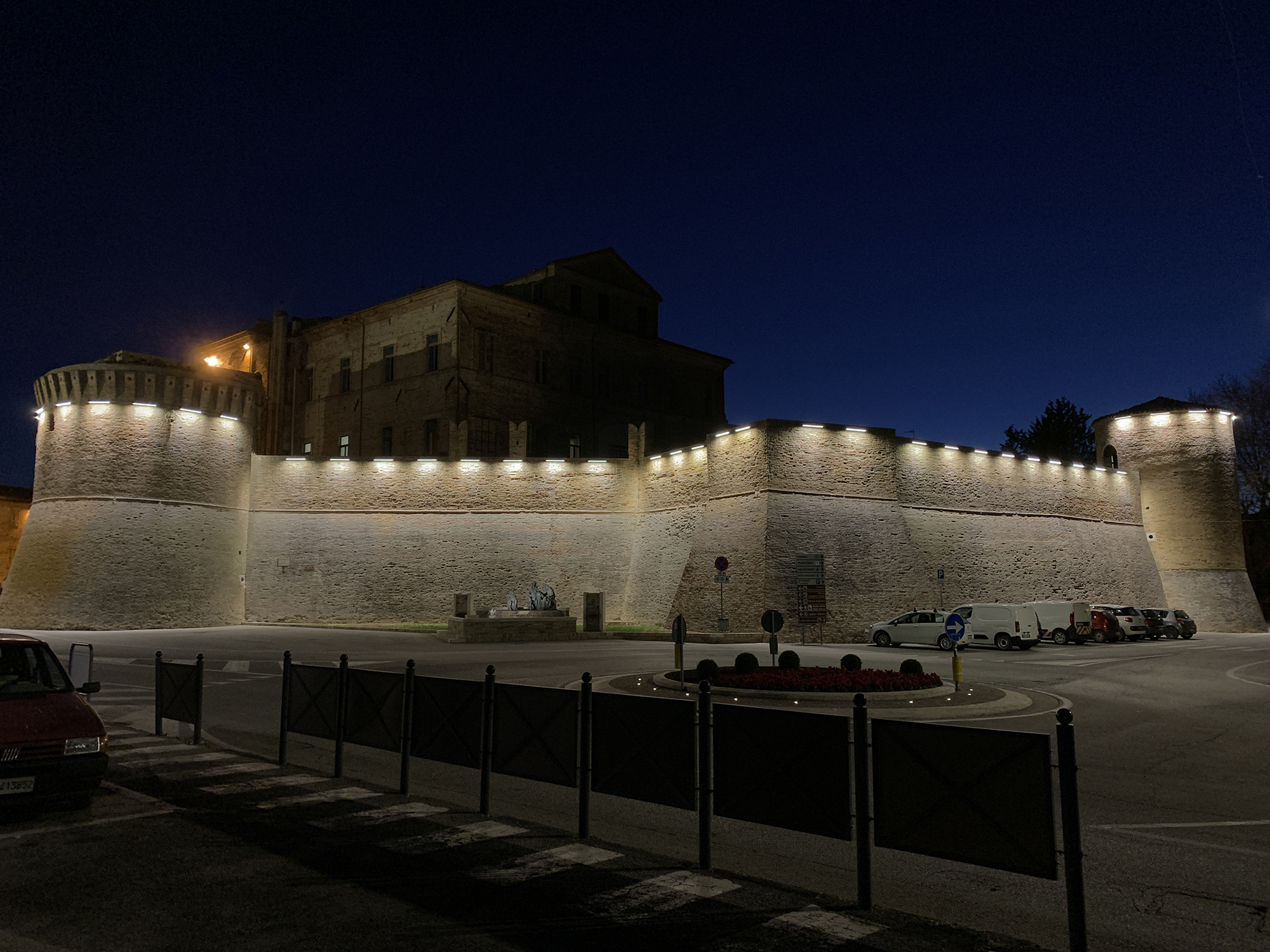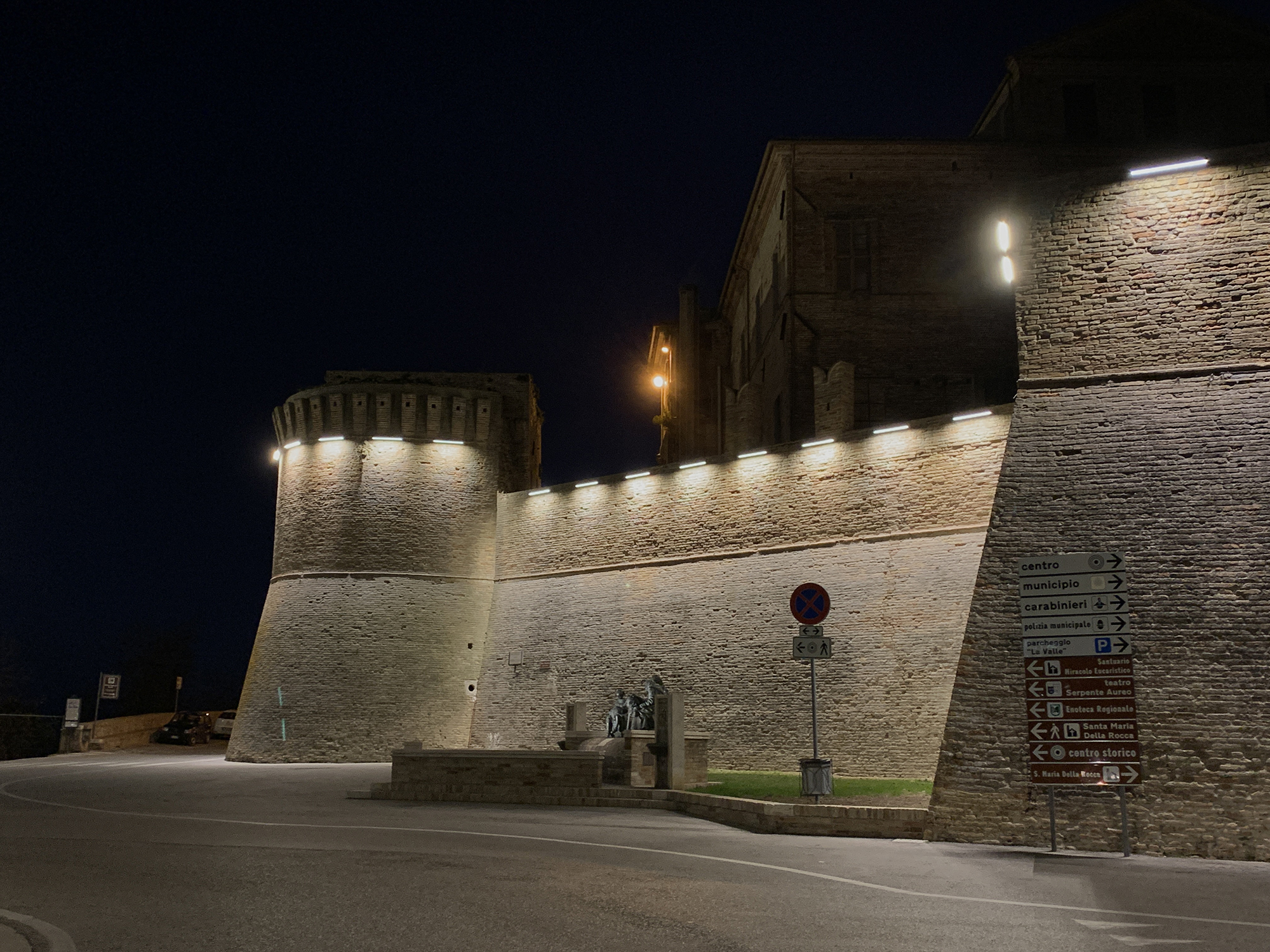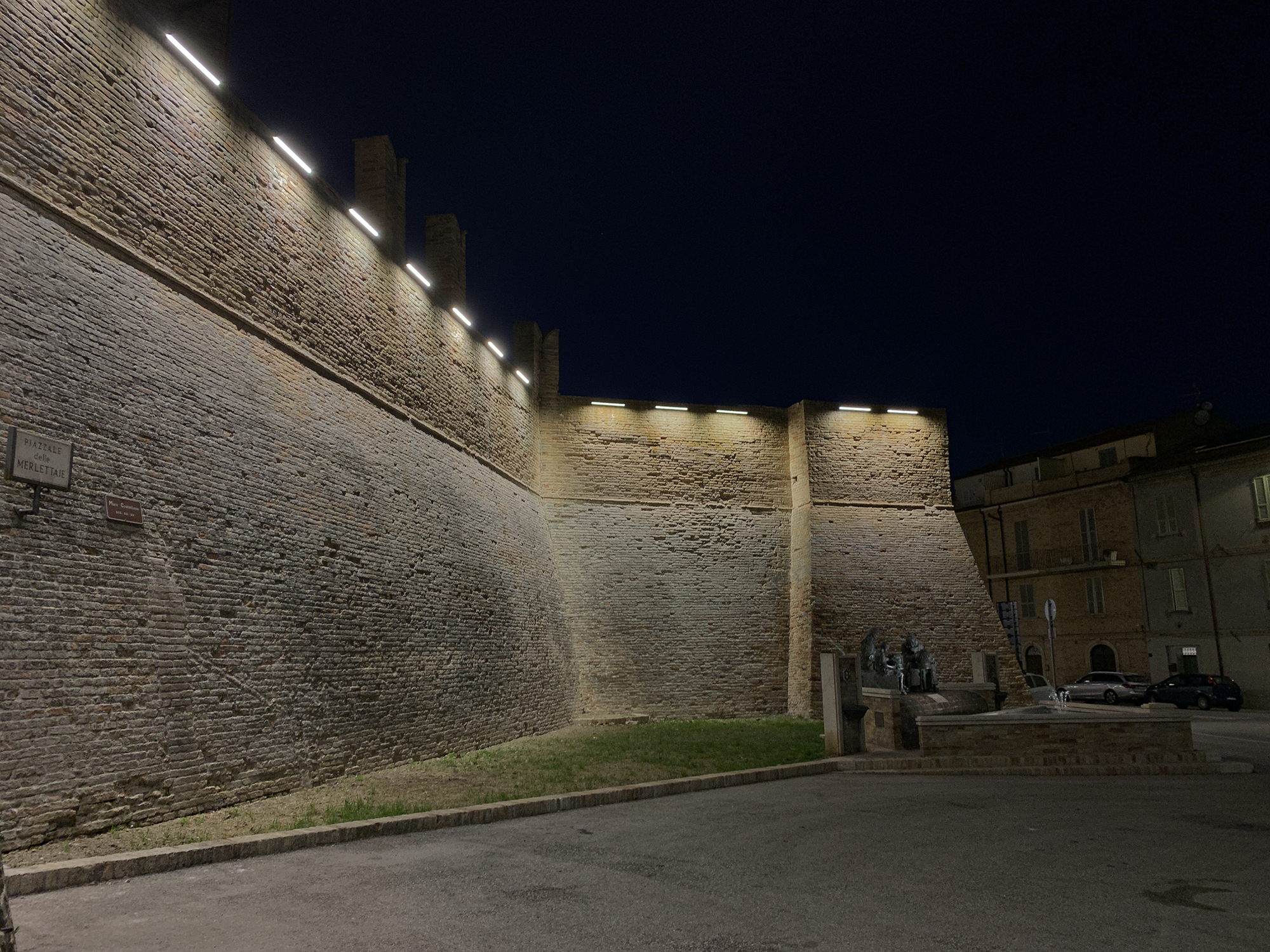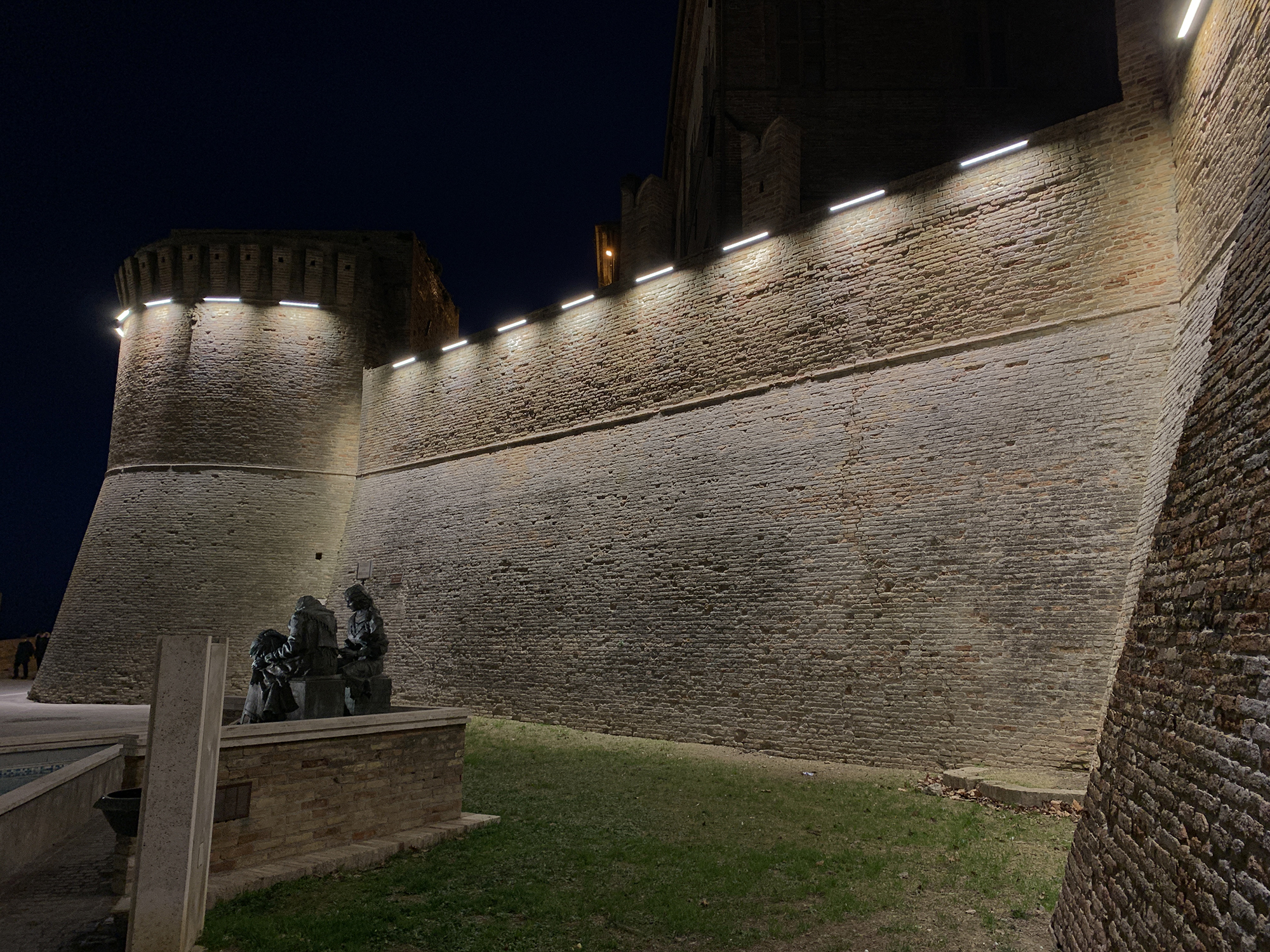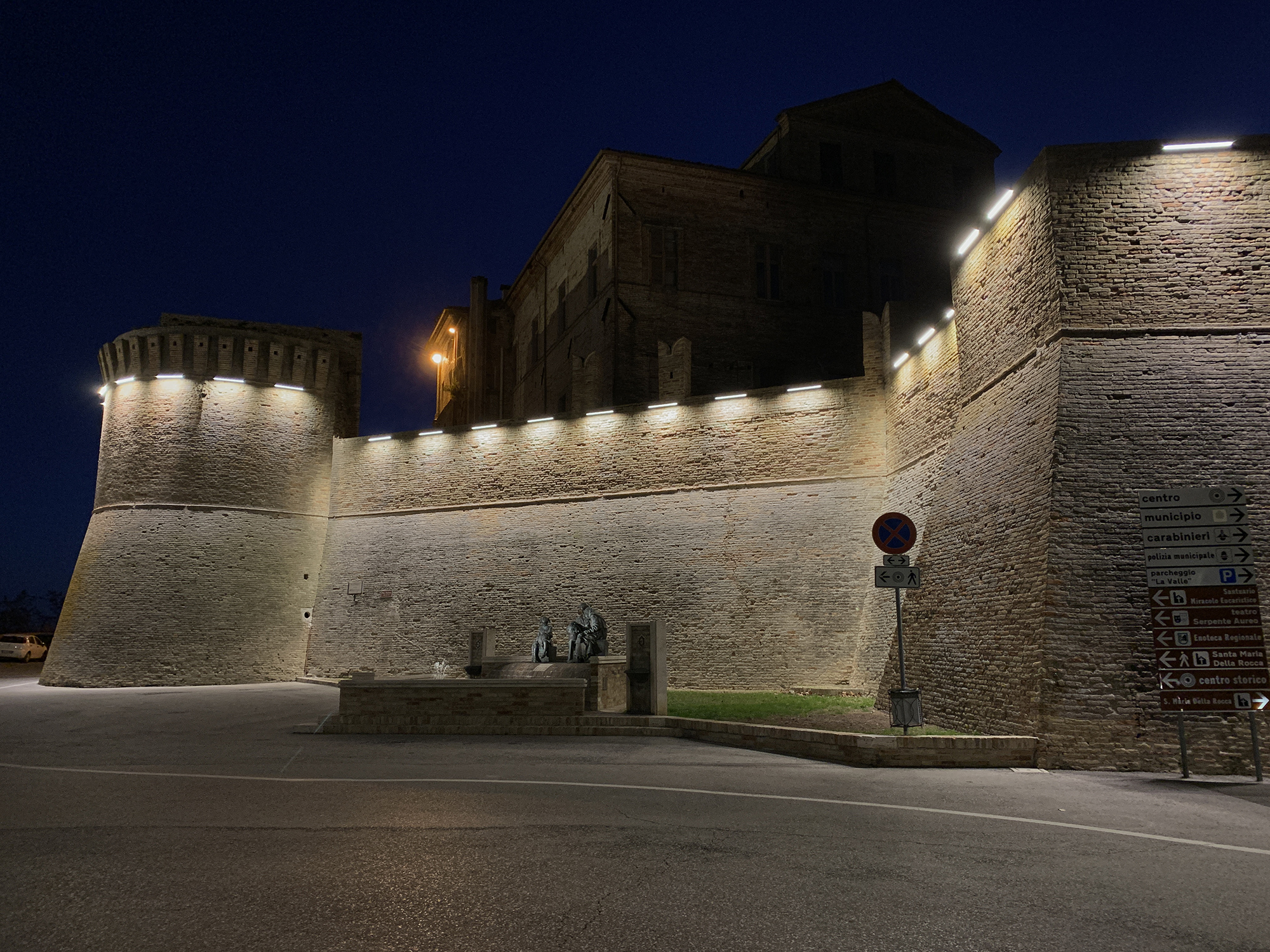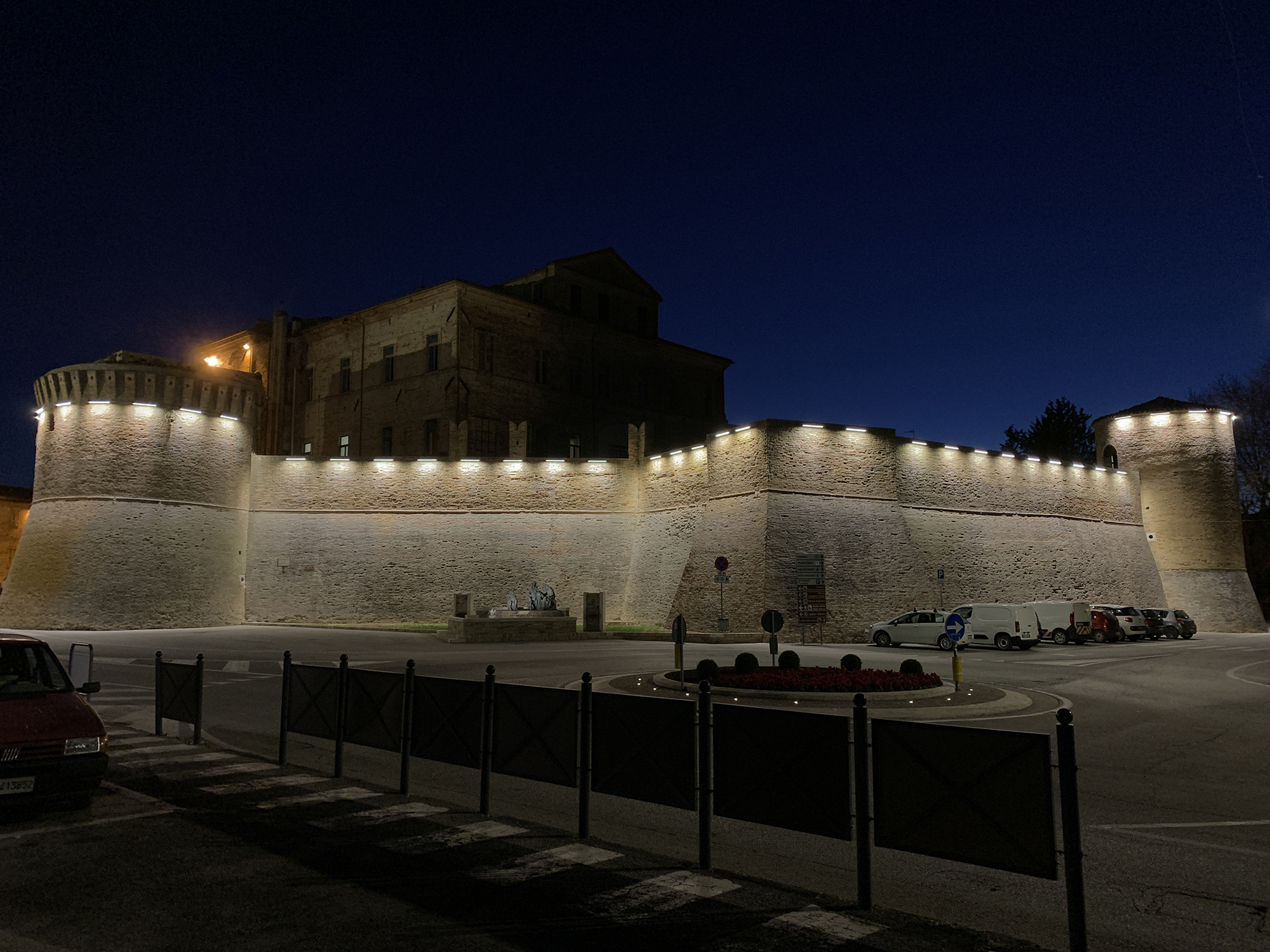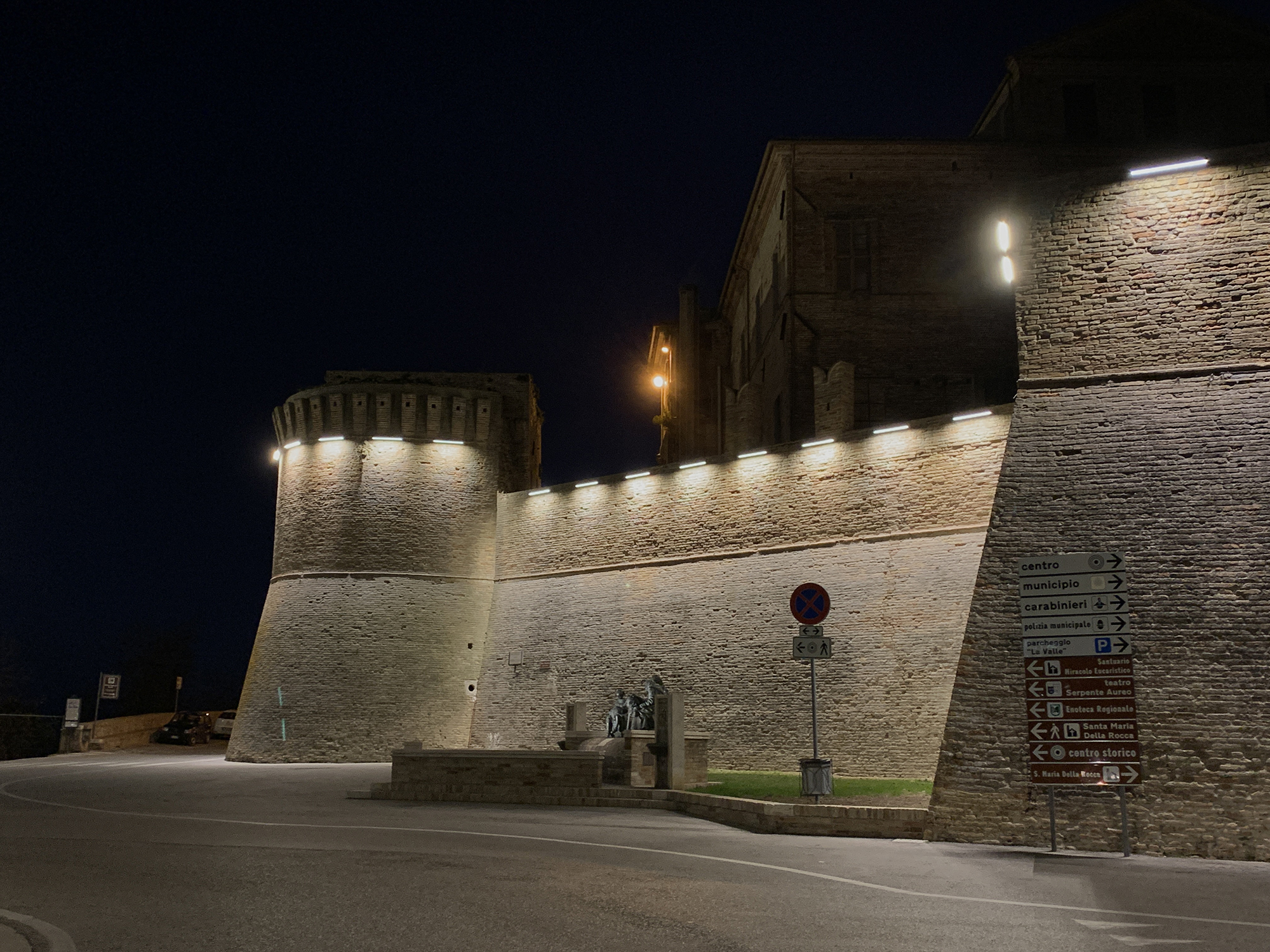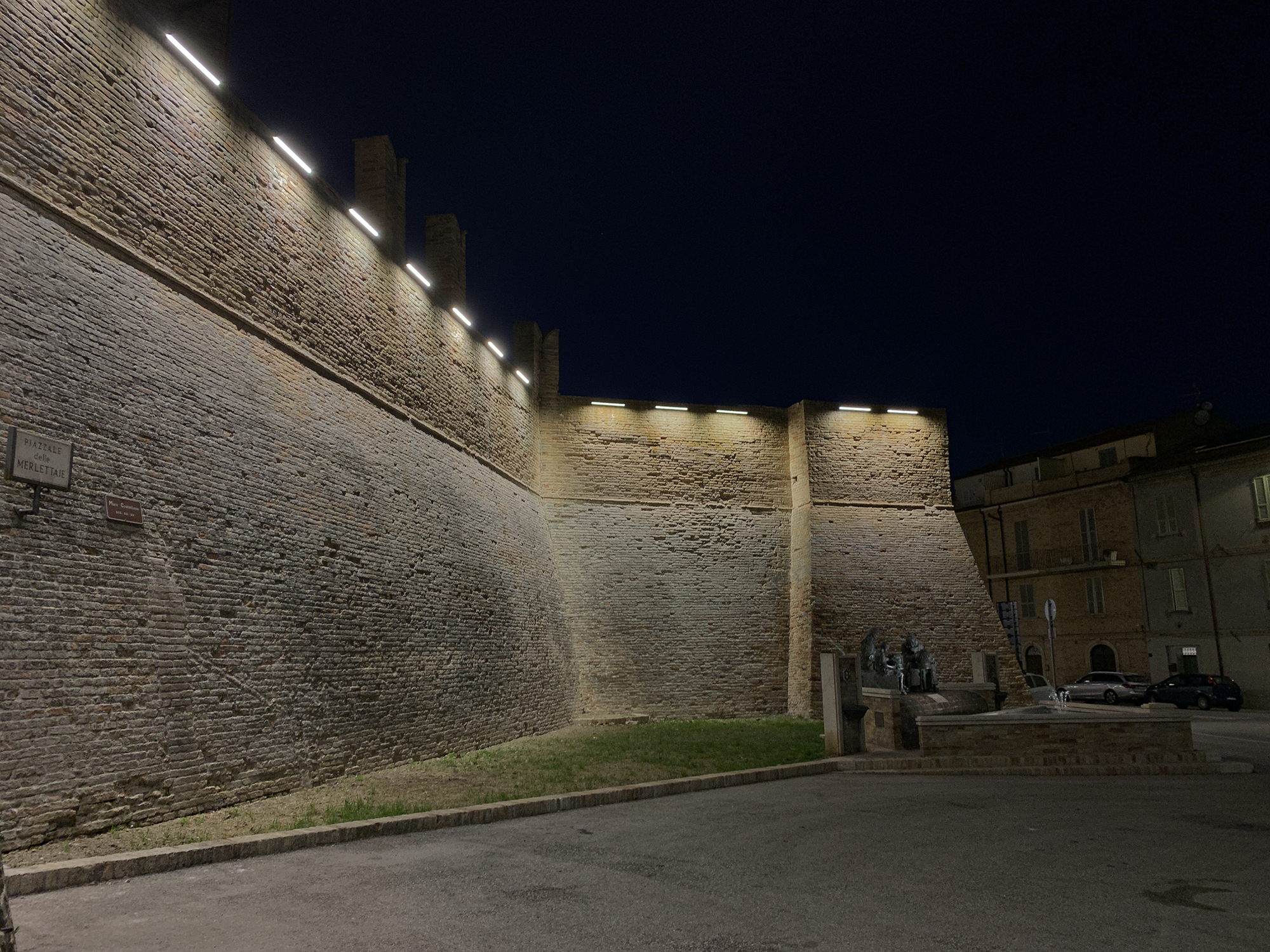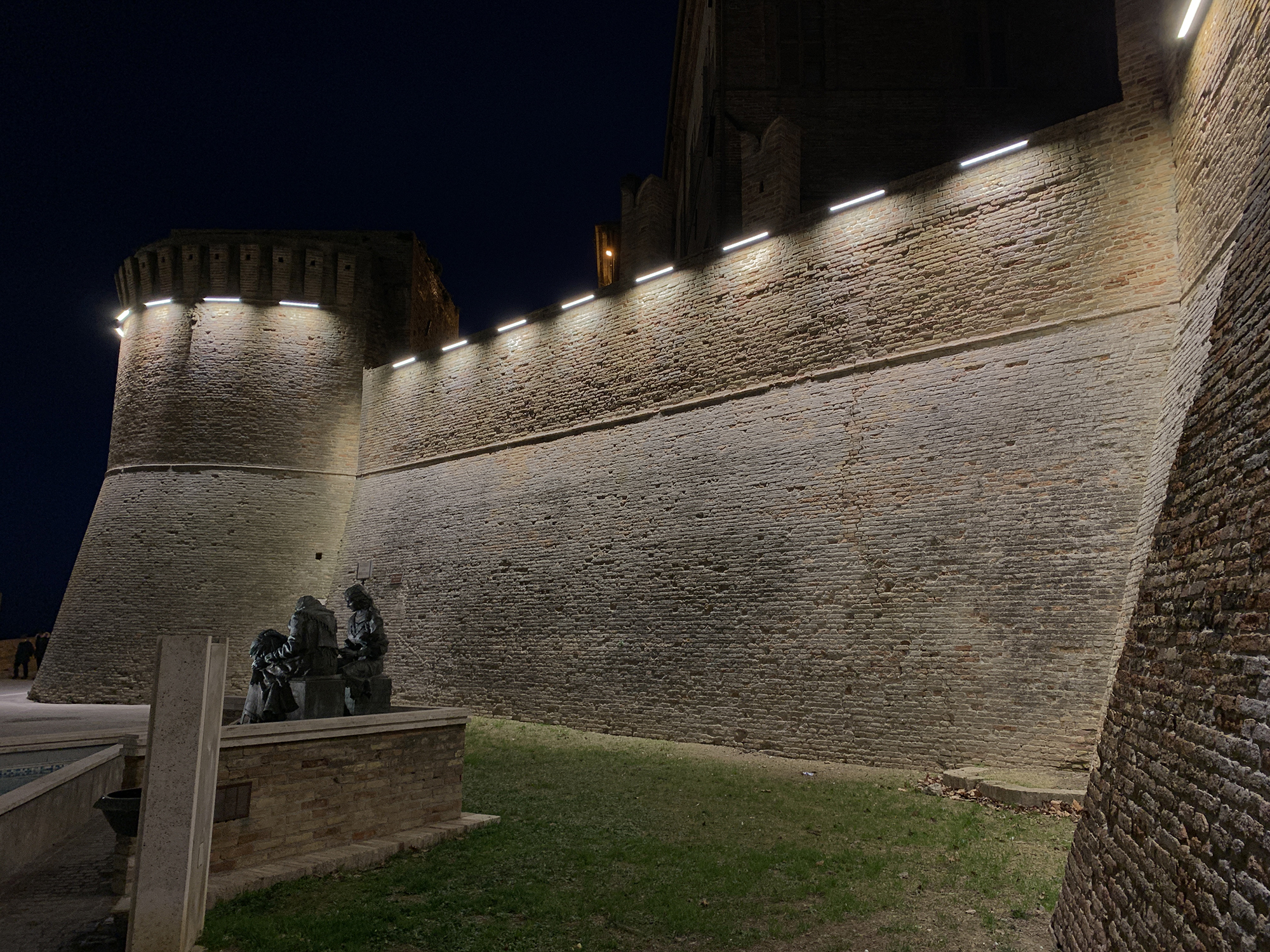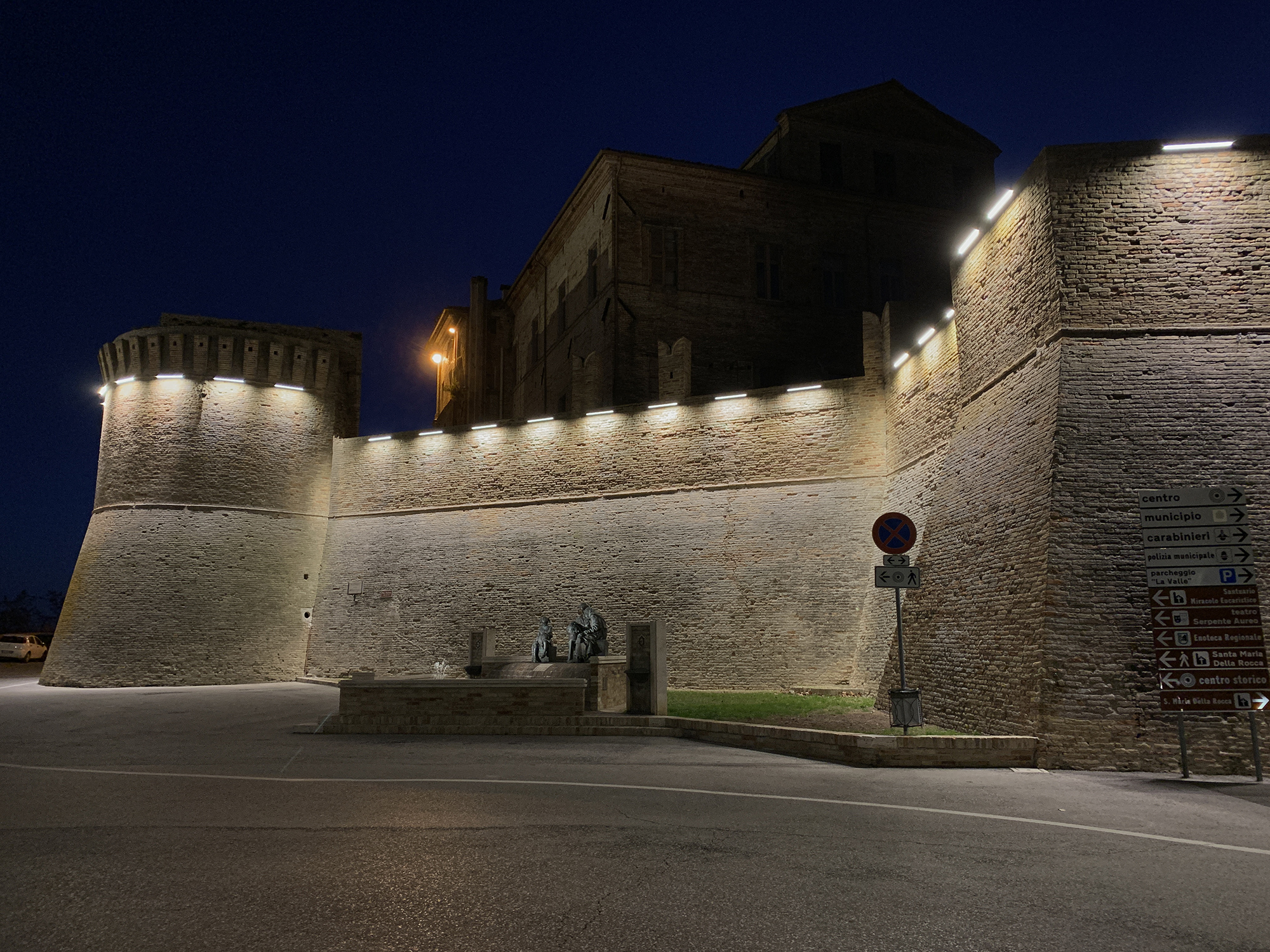 The lighting proposal was creative and unique. When we talk about historic walls, we usually tend to identify a type of lighting that affects the structure from a distance with diffused light beams, generally referable to projectors installed for pointing lighting. This solution, however, would have been ineffective and would have produced a different light due to the different interdistances between the walls and the projection points available for the luminaires. Furthermore, this lighting application would have flattened the material texture of the walls, potentially glaring people in transit.

Render with projectors installed for pointing lighting
The solution designed for the walls, instead, uses the Simes Streamline projectors, whose grazing light from top to bottom enhance the material texture of the brick walls. The lighting fixtures were arranged at regular intervals in the upper part of the walls: thanks to the linear and minimalist design, the projector completely disappears in the architecture during the daytime, so that architecture is not compromised. The beam allows uniform and diffused light to be obtained over the entire body of the architecture, up to the base of the walls, and without any shaded area.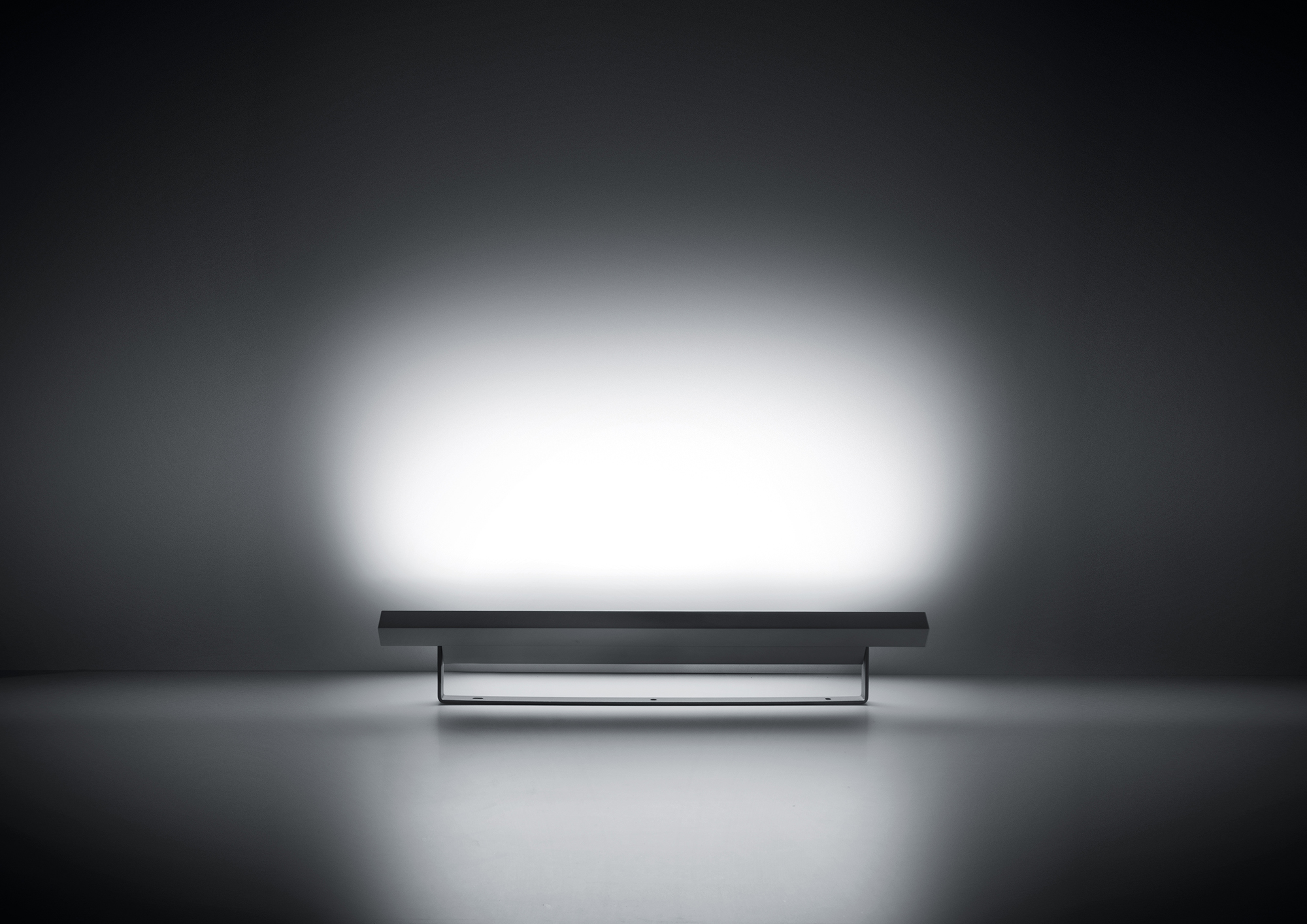 Streamline Projector
This is the way the artwork "Le Merlettaie" by Aldo Sergiacomi came to light, too: this is placed near the medieval walls and was created in 1983 by Aldo Sergiacomi. It represents the figures of three women of different ages working on the bobbin, the traditional embroidery of the city of Offida.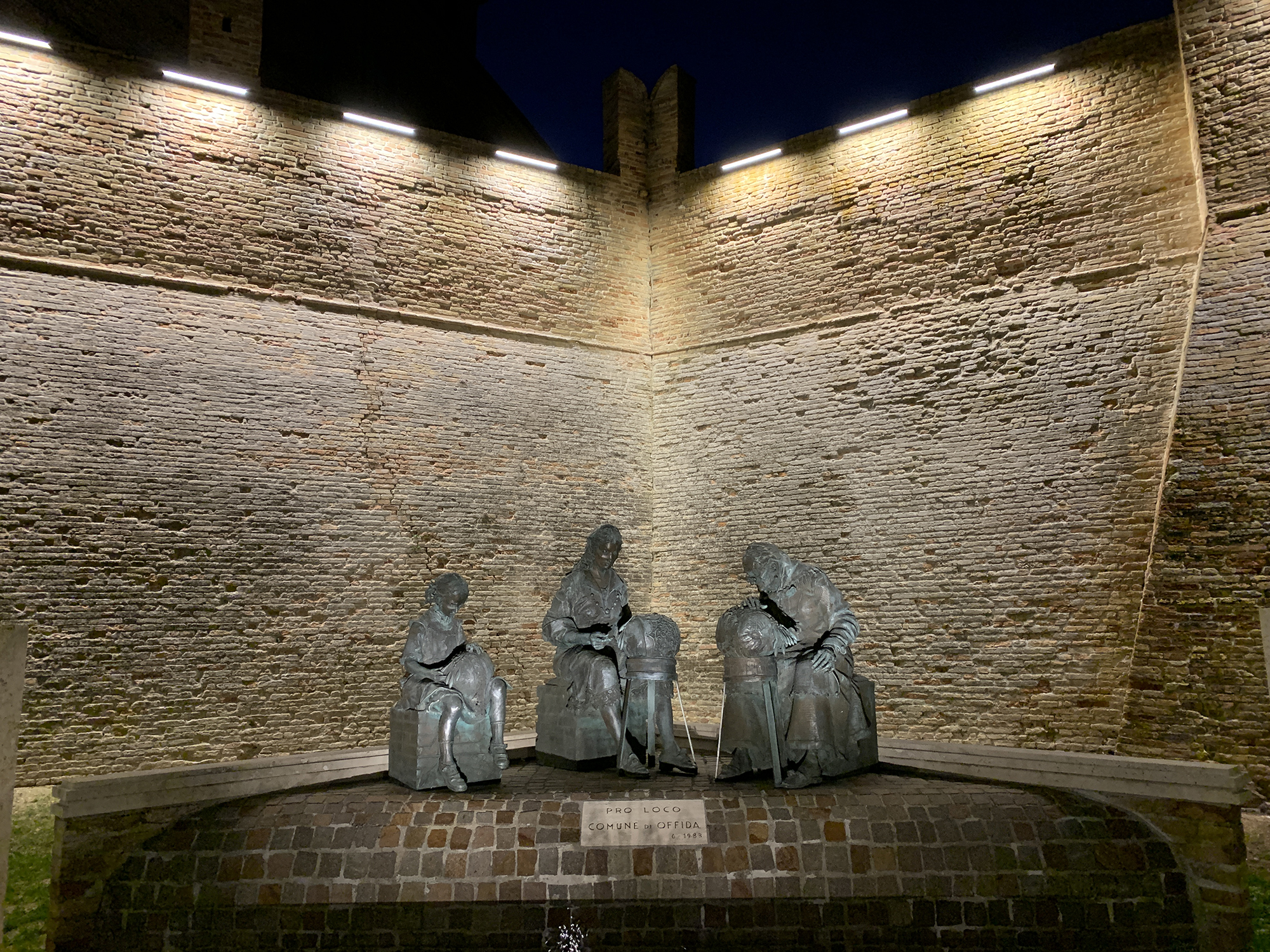 Artwork "Le Merlettaie" by Aldo Sergiacomi
The photorealistic renderings were an essential support to guarantee the Municipal Administration to make a targeted and conscious choice: they actually worked the correct dialogue between the designer and the client during the examination of the lighting design proposal, presenting a reliable and very realistic image of the desired light effects: if a 2D plan leaves free interpretation, the photorealistic image is clear and immediate, it does not lead to misunderstandings and additional costs after realization. The realistic comparison between the objective and achievement is made possible by the skill of the designer, who works using the BIM libraries with complete and reliable data (download the SIMES Libraries).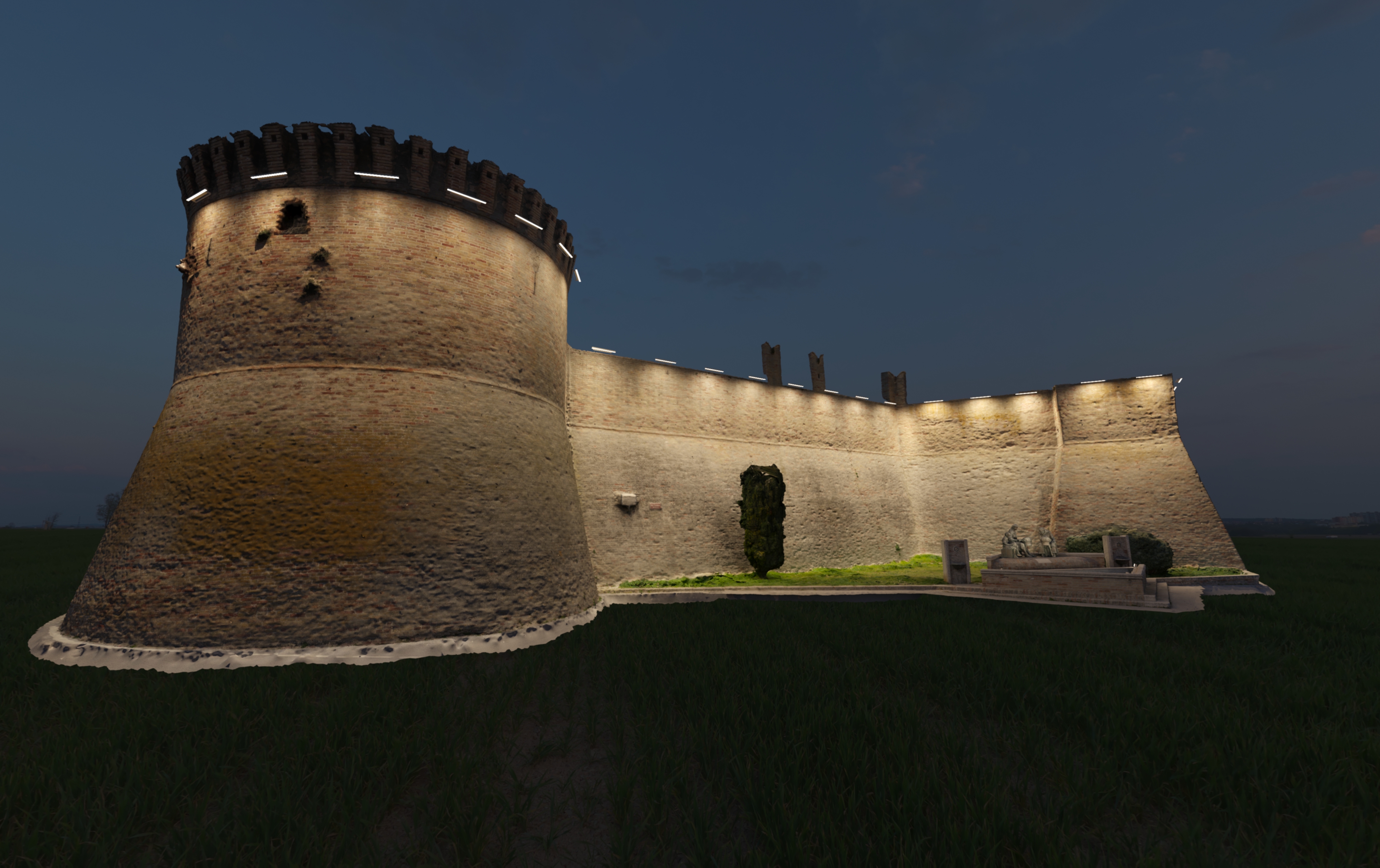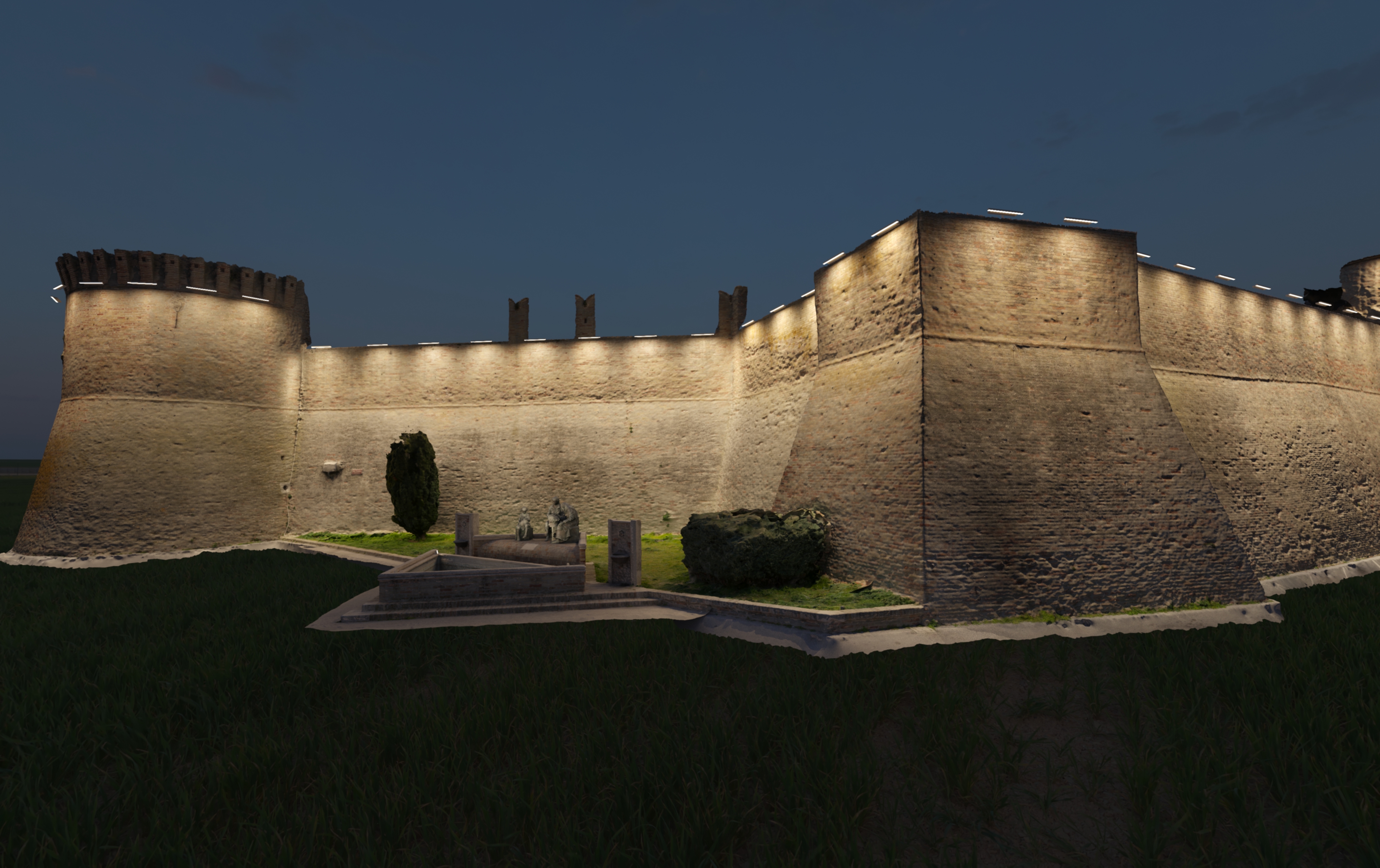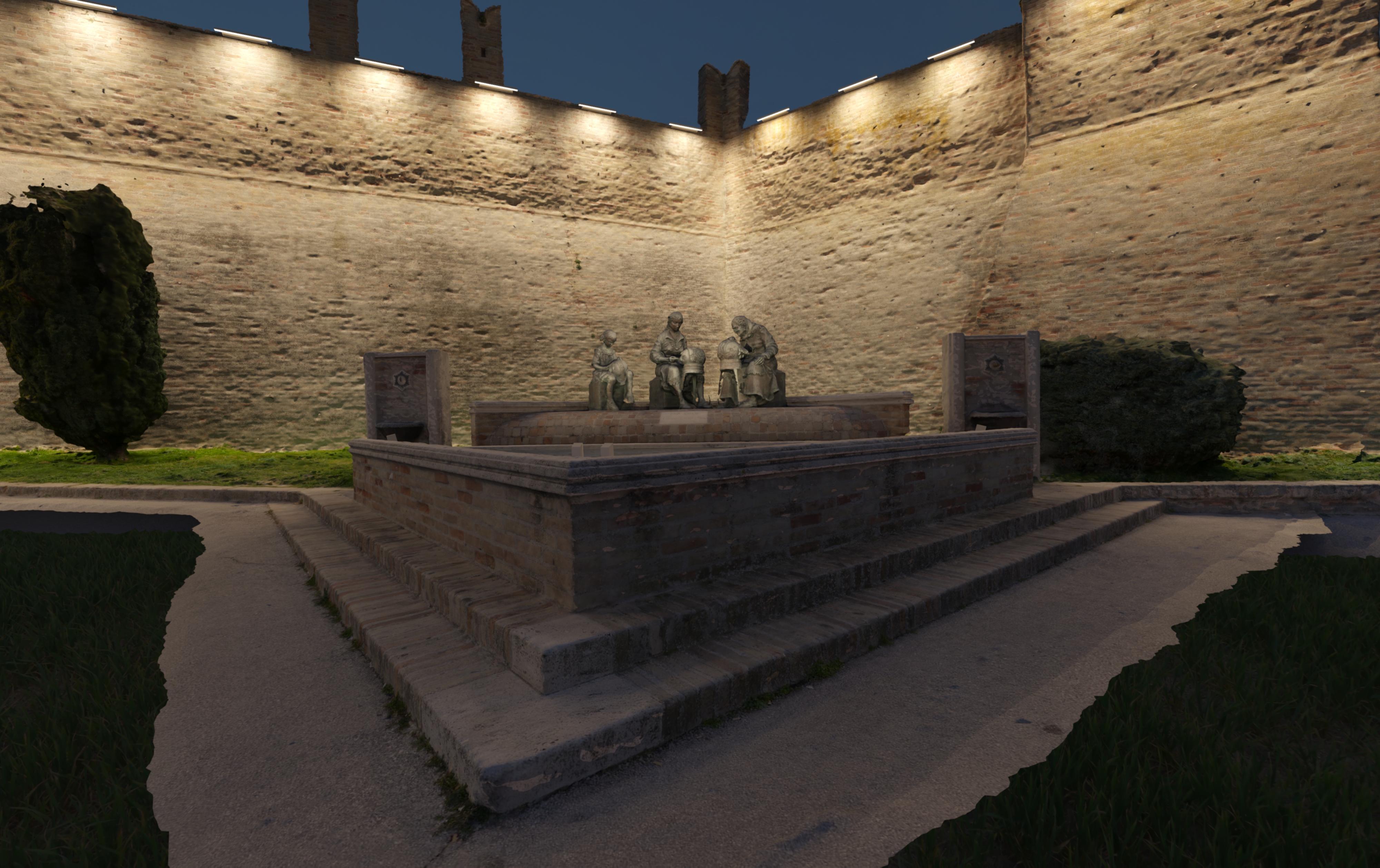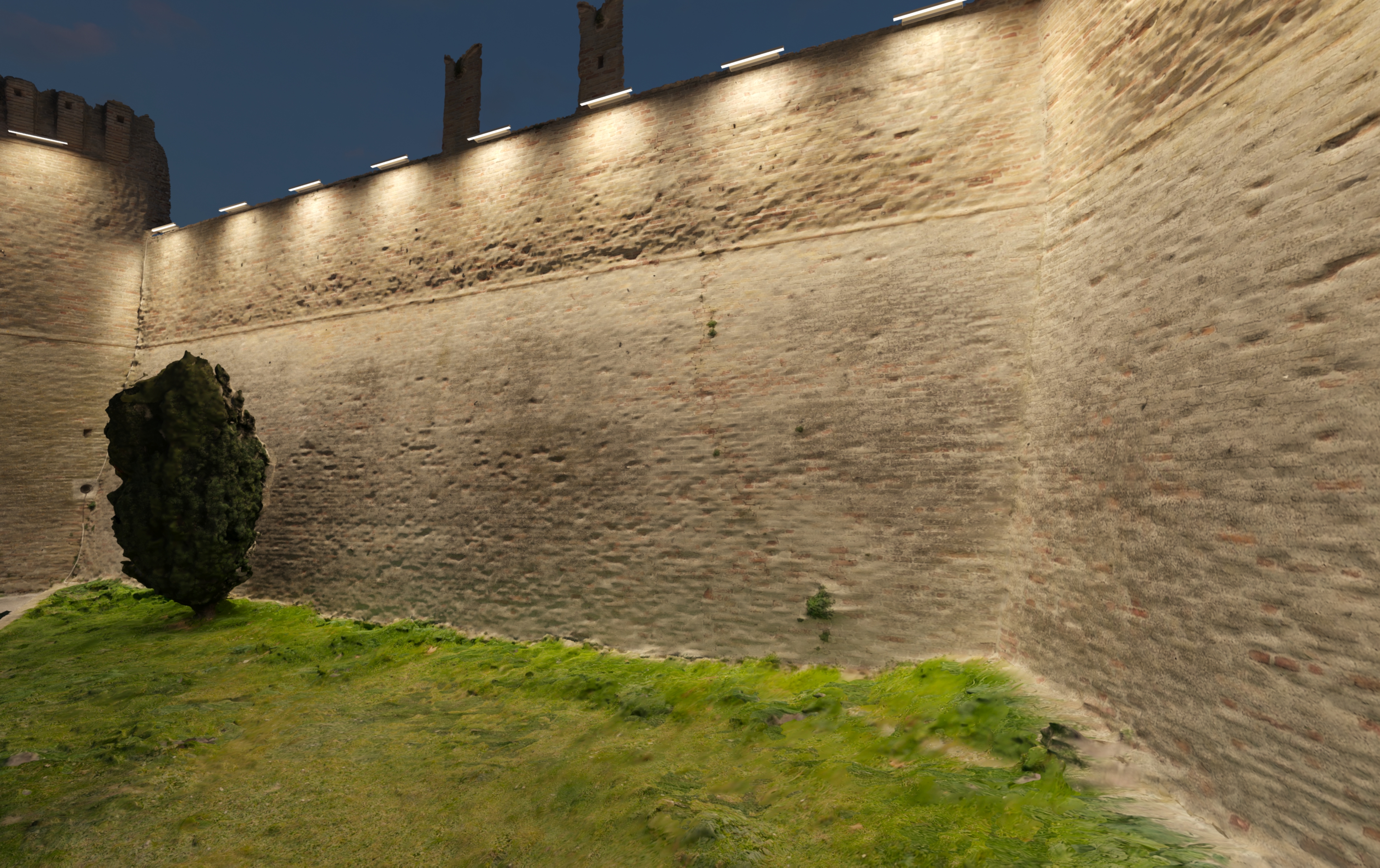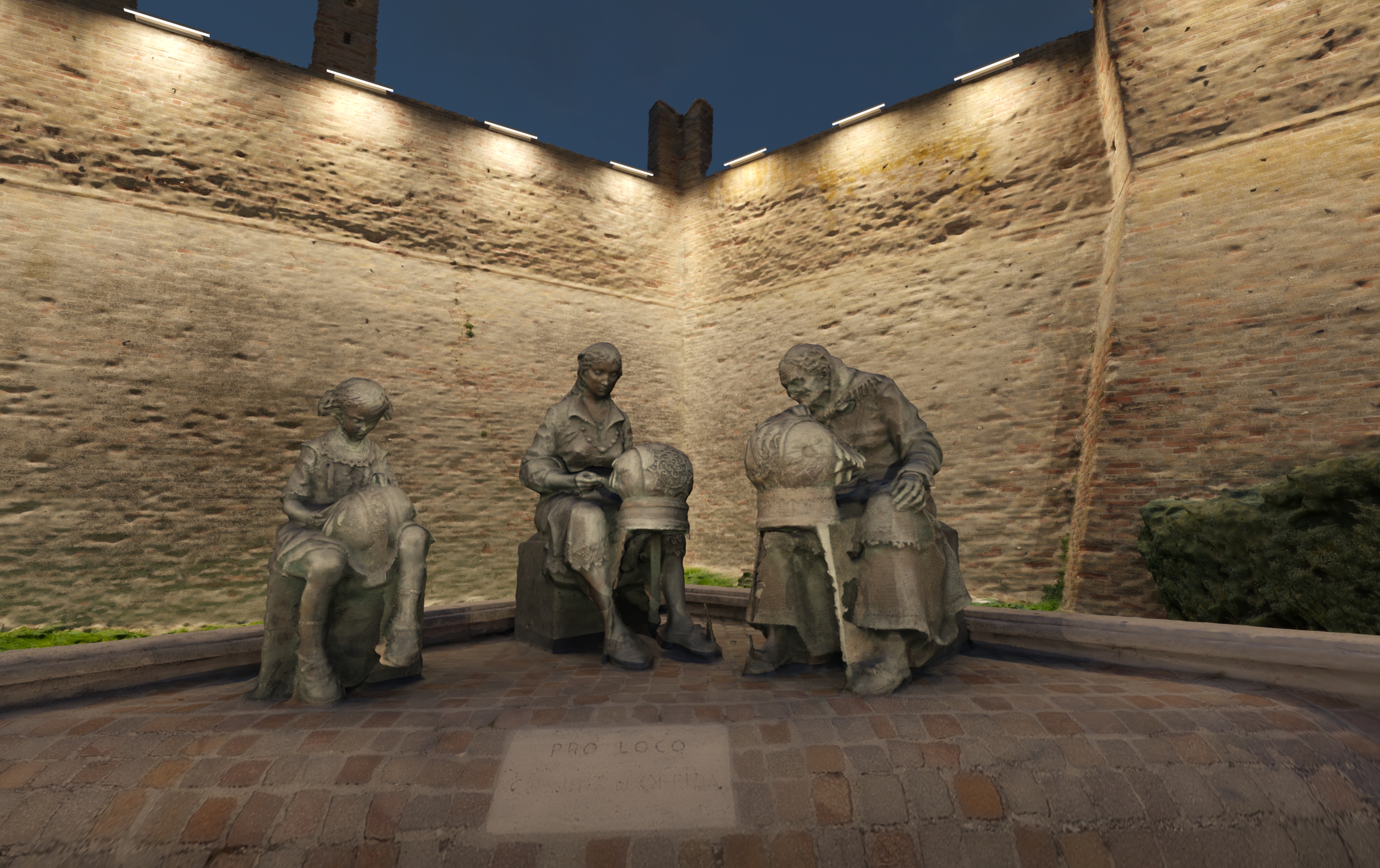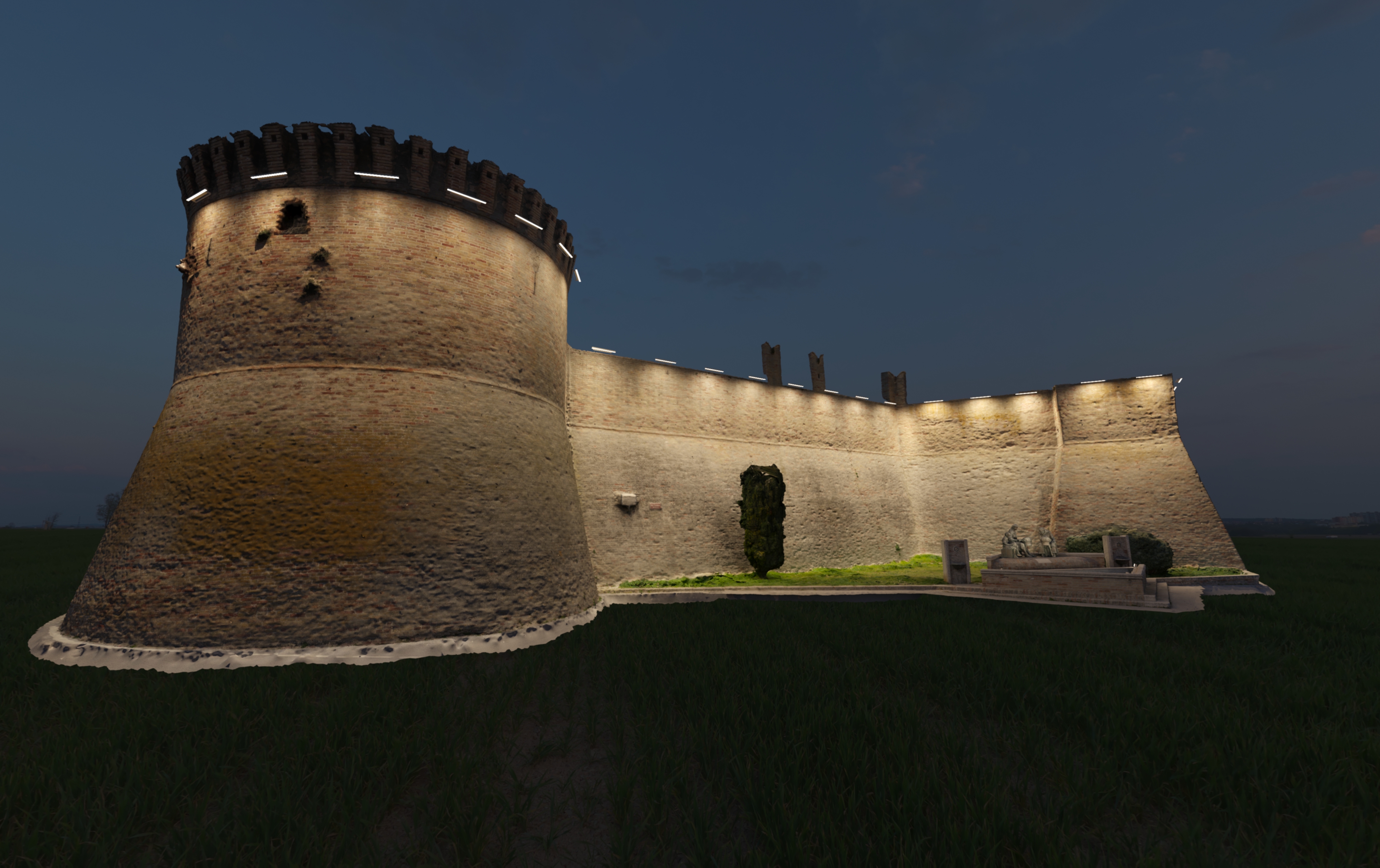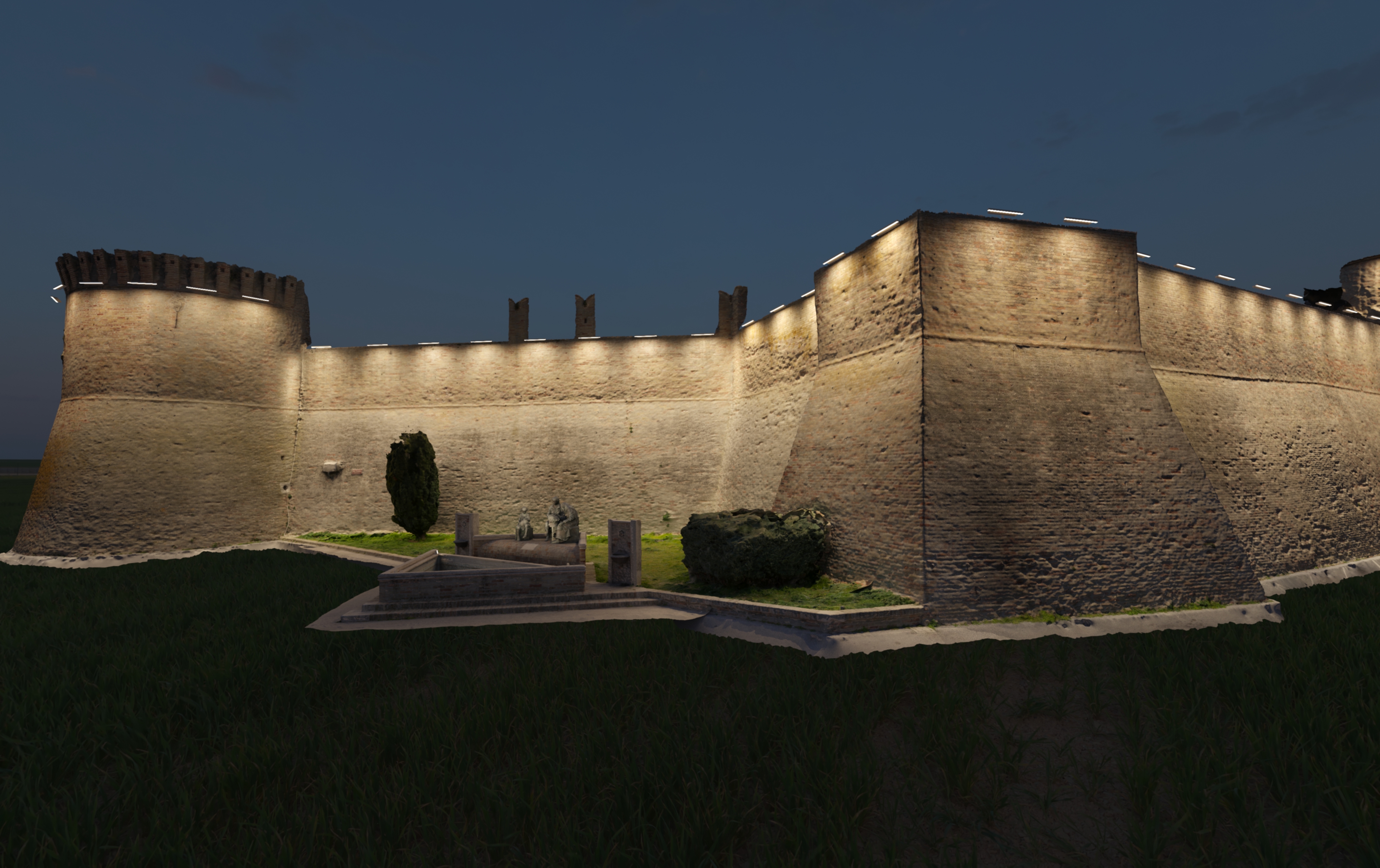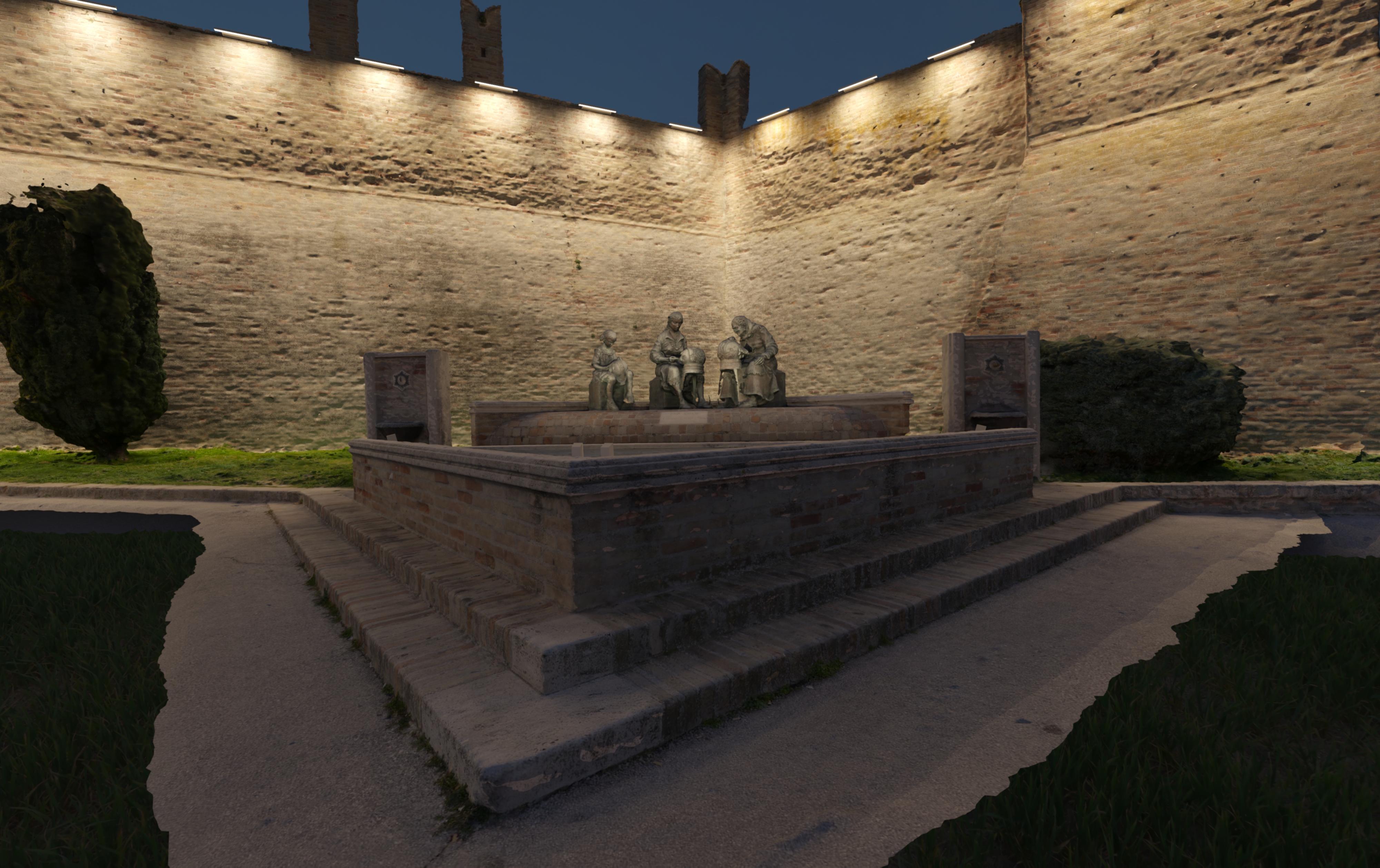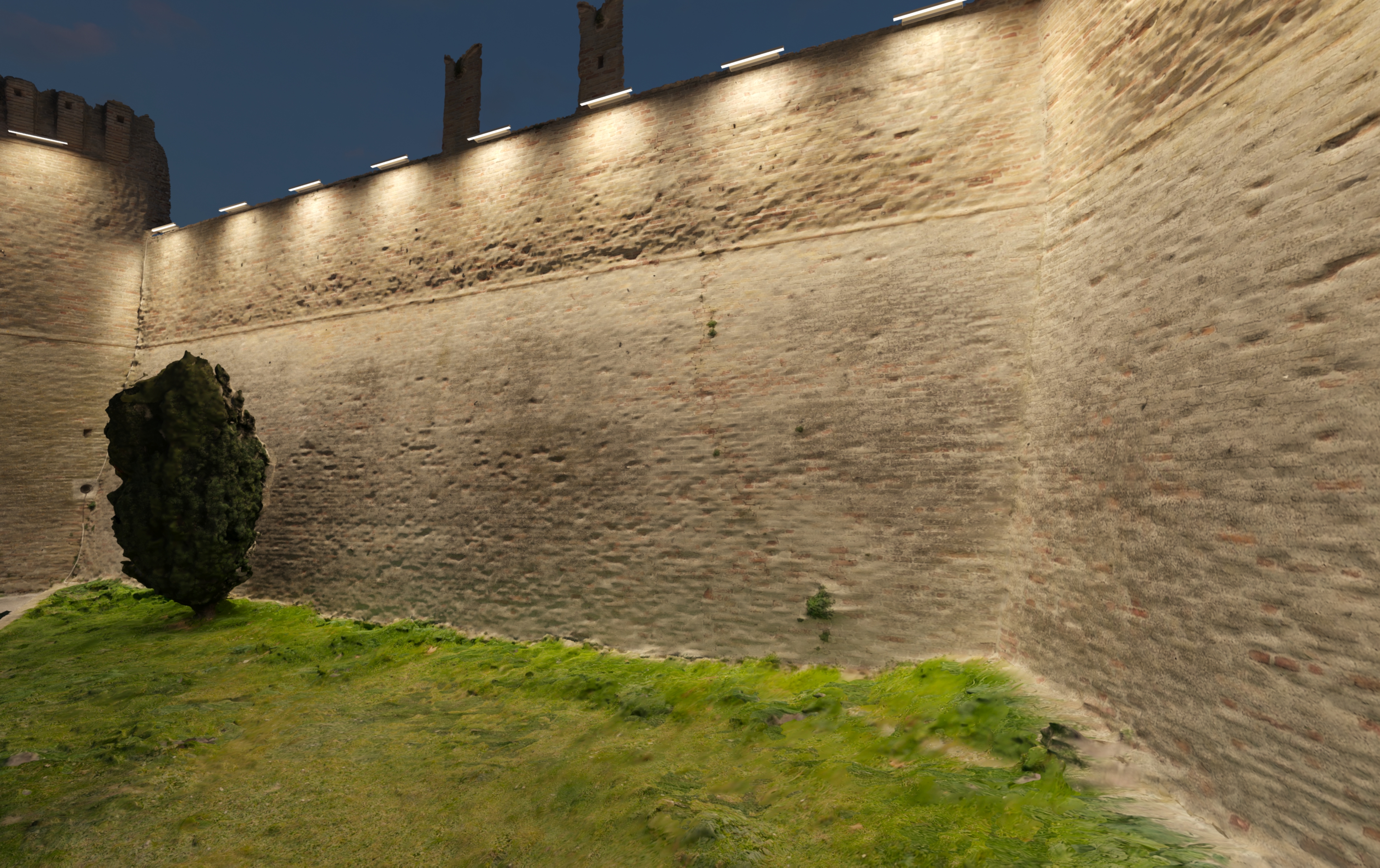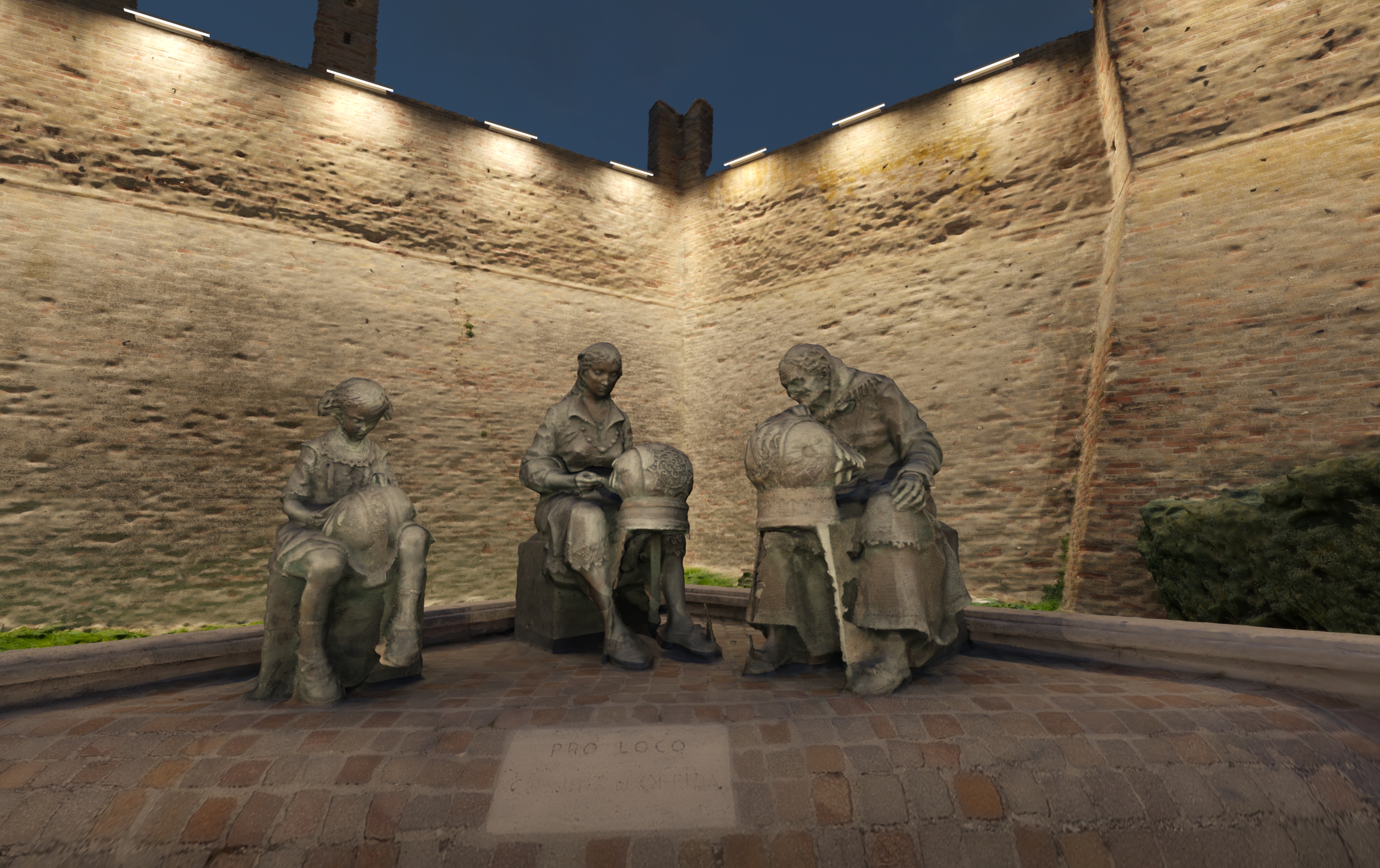 Feel free to contact us
Since 1973 Simes has been producing design lamps to illuminate architecture, the garden and the outdoors. Our technical consultants assist light designers in choosing the best lighting. If you need support for your project, please fill in the form herebelow and we will revert back to you asap.